---
Don't hike price of essentials during Ramadan: PM to businessmen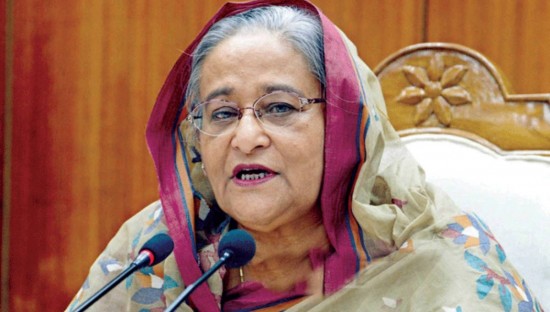 Prime Minister Sheikh Hasina on Wednesday asked the business community not to raise the prices of essentials, including sugar and edible oil, during the upcoming Ramadan.
She made the call at a function arranged marking the inauguration and laying the foundation stones of 65 different development activities of economic zones through videoconferencing from Ganobhaban in the city.
The Prime Minister inaugurated 11 economic zones (prepared for setting up industries) and the commercial manufacturing of 16 industrial units, and laid the foundation stones of 13 economic zones, 20 industrial units and five ongoing development projects being implemented by Bangladesh Economic Zone Authority (BEZA).
"I would like to request you so that there's no crisis of sugar and edible oil in the upcoming Ramadan. It's my request to you all," she said while exchanging views with chairman of Meghna Group of Industries Mostafa Kamal. He is also the owner of Meghna Industrial Economic Zone, Sonargaon.
The Prime Minister also made the same request while exchanging views with the owner of Abdul Monem Economic Zone, Munshiganj.
PM's Private Industry and Investment Adviser Salman F Rahman was present at the function arranged by BEZA.
Principal Coordinator (SDG Affairs) of Prime Minister's Office Md Abul Kalam Azad conducted the event while BEZA Executive Chairman Paban Chowdhury delivered the welcome speech.
An audio-visual presentation was made on the occasion over the activities of economic zones.
Earlier in her introductory speech, the Prime Minister stressed the need for protecting the arable land not setting up industries haphazardly.
She said the government is setting up 100 economic zones in the country to fix specific areas for industrialization so that croplands are not destroyed.
"We've scarcity of land. We'll have to produce food protecting arable lands," she said.
She said Bangladesh achieved huge development in the last one decade due to proper plans of the government. "The salient feature of the country's ongoing development is that the grassroots people are enjoying the benefits of this development."
Sheikh Hasina said the government has taken measures to explore local markets for locally-produced goods by increasing the purchasing capacity of the people, not only depending on export.
"You who are running industries can definitely see that a market has created in the own country as the socio-economic condition of the country's people improved," she said adding that they can catch the markets of neighbouring countries as the government is improving connectivity with them through BBIN connectivity and BCIM economic corridor.
Reaffirming that the main goal of all government activities is to create jobs, the Prime Minister said, "No youth will remain unemployed. They'll get training. We're ensuring training and education for them."
During the views-exchange with stakeholders of Mirsarai Economic Zone, the Prime Minister also said she will not allow acquiring any cropland for setting up economic zone or industries.
PM's Private Industry and Investment Adviser Salman F Rahman was present at the function arranged by Bangladesh Economic Zone Authority (BEZA).
The 11 economic zones inaugurated by the Prime Minister are Mongla Economic Zone in Bagerhat, Meghna Economic Zone, Meghna Industrial Economic Zone, Aman Economic Zone and City Economic Zone in Narayanganj, Abdul Monem Economic Zone in Munshiganj, Bay Economic Zone in Gazipur, Kishoreganj Economic Zone in Kishoreganj, East West Special Economic Zone in Dhaka, Karnaphuli Dry Dock Special Economic Zone in Chattogram and Srihatta Economic Zone in Moulvibazar.
The 13 economic zones the foundation stones of which were laid are Bangabandhu Sheikh Mujib Industrial Estate (comprised of Mirsarai, Sitakunda and Feni economic zones) in Chattogram and Feni, Mirsarai Economic Zone-2A, BGMEA Garments Park (Mirsarai) in Chattogram, Mongla Economic Zone-2 in Bagerhat, Moheshkhali Economic Zone in Cox's Bazar, Jamalpur Economic Zone in Jamalpur, Sirajnganj Economic Zone in Sirajganj, Akij Economic Zone in Mymensingh, Cumilla Economic Zone in Cumilla, Bashundhara Special Economic Zone (Keraniganj) and Arisha Economic Zone in Dhaka, and Standard Global Economic Zone and Hosendi Economic Zone in Munshiganj.