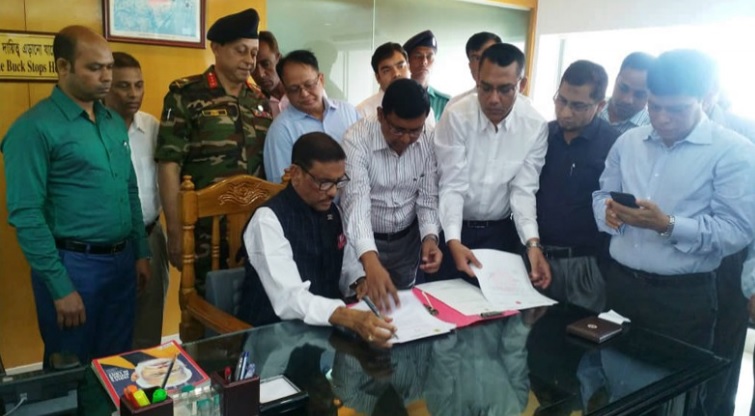 Bangladesh's ruling Awami League party's general secretary Obaidul Quader, also the road, transport and bridges minister, on Sunday declared to play the second innings of his life.
'In the second innings, my challenge is bringing back the order to the road transport sector,' he told while talking to the journalists at his secretariat office in capital Dhaka.
Obaidul Quader joined his office on Sunday after returning home from Singapore on Wednesday following 72-day-long medical treatment in Singapore.
The minister said that his next mission was to complete the ongoing mega projects of the ministry in stipulated time.
About the upcoming Eid vacation, the minister said, 'This year, the journey of the Eid holyday makers will be better than any other time.
Referring to serious suffering of Eid holiday makers mostly in Dhaka-Tangail Highway and Dhaka-Chattogram Highway, the minister said the government has taken proper steps to make their journey comfortable in these routes.
The minister talked to the journalist at his office after a long pause of two months and 16 days.
He said that the activities of the ministry went well in his absence as it had skillful and capable officials.
Obaidul Quader had a successful bypass surgery in Singapore's Mount Elizabeth Hospital on March 20 this year.
He was discharged from the hospital on April 5 and later stayed over a month at a rented house near the hospital.
On March 3, Quader was admitted to Coronary Care Unit (CCU) at the Bangabandhu Sheikh Mujib Medical University (BSMMU) hospital due to chest pain.
He was then taken to Singapore after receiving consultation of eminent Indian cardiologist Dr Devi Prasad Shetty in view of deteriorating his physical condition.
Kamruzzaman