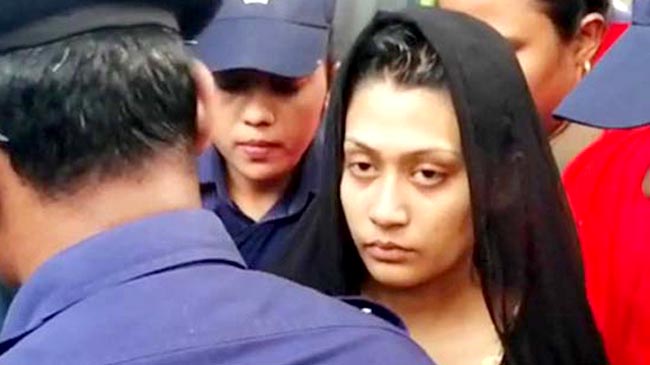 In sensational Barguna youth murder case victim's wife has given her confessional statement before a local court.
Senior Judicial Magistrate Sirajul Islam Gazi of Barguna recorded the statement of Ayesha Siddiqua Minni, wife of slain youth of the district Rifat Sharif on Friday.
The statement was taken under the Section 164 of the Code of Criminal Procedure, said Inspector Humayun Kabir of Barguna Sadar police station, also the investigation officer of the case.
After recording Minni's statement for three hours, the court sent her to jail, the inspector said.
"As Minni agreed to give her confessional statement, we produced her before the court ahead of the completion of her remand period," he said.
The next date of hearing on the matter has been set on July 31.
In the afternoon, three days into her five-day remand, police took her to court as Minni agreed to give her confessional statement, said the inspector.
However, Inspector Humayun could not give details of Minni's statement to the court.
Rifat Sharif, 22, was hacked to death by criminals in front of his wife Minni, in broad daylight, in the district town on June 26. Police also have a CCTV footage of the incident.
Rifat's father, Dulal Sharif, filed a murder case against 12 named and five or six unknown attackers with Barguna police station.
To date, 15 people have been arrested in connection with Rifat Sharif's murder. Of the fourteen, 13 have confessed to their crimes.
Prime accused Nayan Bond was killed in a gunfight with police on July 2.
Another key suspect on remand
Meanwhile, a Barguna court on Friday placed Md Rashidul Hasan Rishan alias Rishan Farazi, another key suspect in the case, on a 5-day remand.
Senior Judicial Magistrate Md Sirajul Islam Gazi of Barguna court gave the remand order after Rishan was produced before court with a 7-day remand prayer by police, around 10am.
Rishan Farazi is the younger brother of another key suspect in the same murder case, Rifat Farazi, who has also been arrested.
Kamruzzaman