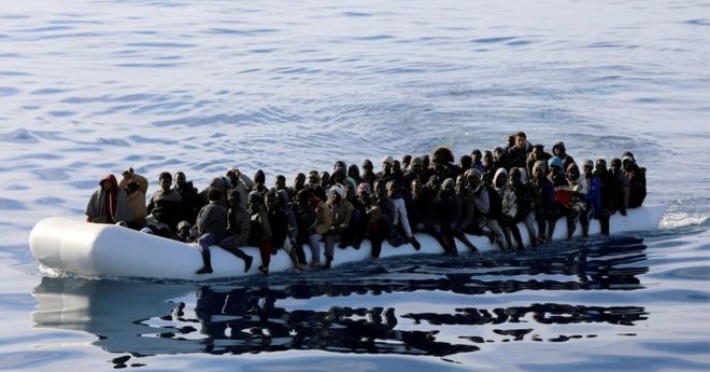 Around 40-45 Bangladeshi nationals remain missing after Friday's boat capsize in the Mediterranean Sea while attempting to reach Europe from Libya, said an official in Bangladesh Embassy in Tripoli on Tuesday.
"Two boats -- one carrying around 50 and another 70 people – set out at the same time on May 9 (night). The first one possibly reached Italy while the second one capsized," ASM Ashraful Islam, labour counsellor of Bangladesh Embassy in Tripoli, told the United News Bangladesh.
He said 14 Bangladesh nationals were rescued alive from the capsized boat and one body was recovered. The boat reportedly left from Libya's Zouara.
Ashraful Islam identified the body as Uttam Kumar, hailing from Naria, Shariatpur.
Earlier, Foreign Minister AK Abdul Momen said around 30-35 Bangladesh nationals might have died in the boat capsize.
Bangladesh Ambassador to Libya Sk Sekander Ali and labour counselor Ashrasul Islam are now in Tunisia to assess the situation.
Meanwhile, Bangladesh Red Crescent Society (BDRCS) confirmed the identities of 27 Bangladesh nationals who are feared dead in Friday's boat capsize in the Mediterranean Sea.
The victims are Nasir (Noakhali), Kamran (Tongi), Zillur Rahman, Limon Ahmed, Abdul Aziz, Ahmed, Zillur, Rafique, Ayat, Amajal, Kasim Ahmed, Khokan, Rubel, Monir, Belal, Maruf and Ripon (Sylhet), Jalal Uddin and Al-Amin (Kishoreganj), Mahbub (Sunamganj), Sajib (Madaripur), Parvej and Kamrun Ahmed Maruf (Shariatpur), Shamim and Fahad (Moulavibazar), Mahbub and Nadim (Sunamganj), according to BDRCS.
BDRCS' Restoring Family Links (RFL) wing director Imam Zafar Sikder said they have confirmed the identities of 27 Bangladeshis after talking to four Bangladeshi survivors over phone through an official of Tunisia Red Crescent.
The BDRCS opened hotline numbers to establish contact with family members of the victims and survivors of Friday's boat capsize in the Mediterranean Sea.
The hotline numbers are 88-02-49354246 and 01811458521.
Zafar Sikder said they are in constant touch with Tunisia Red Cross Society, Bangladesh Embassy in Tripoli and Foreign Ministry here to get update on the matter.
Friday's accident was dubbed the "deadliest migrant boat sinking since January" by the International Organization for Migration.
Thousands of migrants attempt to cross the Mediterranean to Europe every year, and Libya is a key departure point, BBC report said.
Those who make the journey often travel in poorly maintained and overcrowded ships, and many have died.
But since mid-2017, the number of migrant journeys has declined dramatically.
The decline is largely because Italy has engaged Libyan forces to stop migrants from setting off or to return them to Libya if found at sea - a policy condemned by human rights organisations.
In the first three months of 2019, some 15,900 refugees and migrants arrived in Europe via the three Mediterranean routes - a 17% decrease on the same period in 2018.
In January, a UN report said six migrants died crossing the Mediterranean every day in 2018.
Kamruzzaman