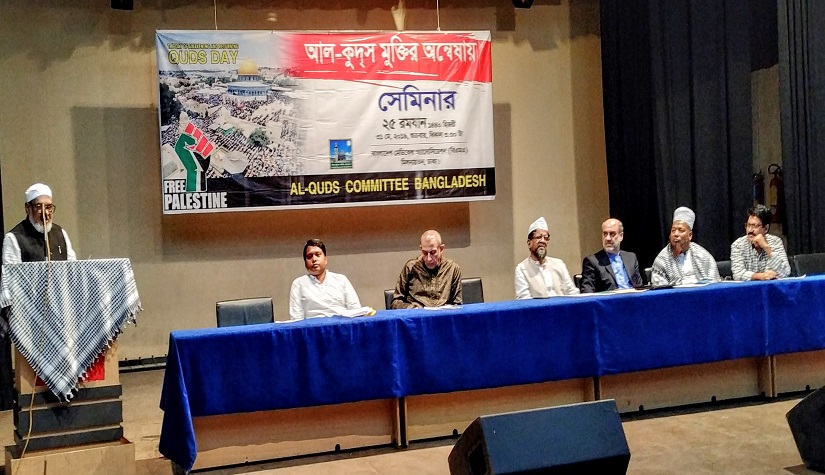 A top Bangladeshi official said on Friday that his nation has long favored an independent Palestine and stood against the aggression of Zionist Israel, Anadolu Agency report says.
"It is the moral responsibility of the civilized world to free al-Aqsa Mosque from the illegal occupation of Israel," AKM Mozammel Haque, Bangladesh's freedom fighters affairs minister, told a seminar on the occasion of Al-Quds (Jerusalem) Day entitled 'Towards the Emancipation of Al-Quds' in the capital Dhaka organized by Al-Quds Committee Bangladesh.
Muslims worldwide mark the last Friday of the holy month of Ramadan as Al-Quds Day to support the legitimate rights of the Muslim people of Palestine and condemn Israeli aggression.
Haq added that the sort of killing and human rights violations perpetrated by Israeli occupation forces in Palestine are absolutely "haram" or forbidden in every religion.
"They are carrying out massacres in hospitals, schools, and even charitable institutions," he said, adding that every moral being worldwide should stand against this tyranny.
Criticizing growing ties between Saudi Arabia and Israel, Haq said that it seems the entire Muslim world is pained by the Israeli aggression in Palestine except for the Saudi government.
'Muslim unity needed'
Palestinian Ambassador in Bangladesh Yousef S Y Ramadan said that no deal will be accepted without declaring Jerusalem Palestine's capital.
"We will never give up our struggle against Israeli occupation, no matter whatever blood we have to shed, how many people have to sacrifice their lives," Ramadan said, adding that Palestinians must protect their land and free Al-Aqsa, the third-holiest site in Islam.
"Al-Aqsa was illegally occupied at least 17 times by different nations but ultimately it was returned to its original people, the Palestinians. Inshallah we will free it within a short time," he said.
Iran's Ambassador in Dhaka Mohammad Reza Nafar urged Muslim people to stand united against Israeli killings and aggression in Palestine.
"In the last few decades they have killed thousands of Palestinians and inhuman practices are continuing," he added.
Borhan Uddin, a Mideast analyst, urged Muslims to boycott all Israeli products, including soft drinks.
"No one can force us to use Israeli products. We are using their products and thus enriching the Israeli economy. They produce destructive bombs with that money and kill Muslims in Palestine," he said.
He added that mere condemnations in seminars or symposiums does nothing against Israel, but a united Muslim boycott of Israeli products could play a meaningful role in stopping the aggression.
"It's time to forget the differences between Shia and Sunni. The issue is being kept alive in Western media just to create division among Muslims. It's time for unity for the greater interest of the Muslim Ummah," or community, he said.
Speakers also urged Saudi Arabia to play its due role for Palestine and against Israeli occupation, saying a joint initiative by Turkey, Iran, and Saudi Arabia would be powerful.
Noted thinkers, professors, journalists, and Islamic scholars spoke at the seminar, chaired by Shah Kawther Mustafa Abululae of Dhaka University.
Kamruzzaman