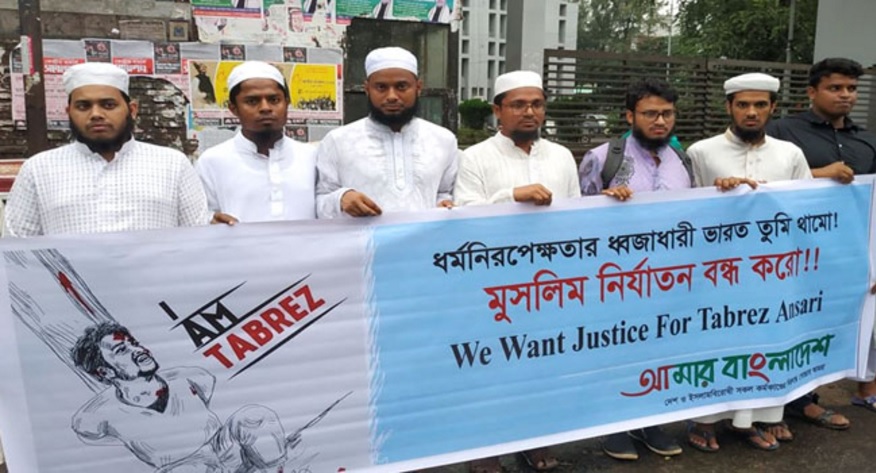 Some Bangladeshi people in the banner of a local organization on Friday demanded immediate break to torturing on minority Muslim community by extremist Hindus in India.
"Though India is claiming itself as a secular state before the world, minority Muslims are being oppressed there only for ethnic identity", Mufti Abdul Mumin, advisor of local body "Amar Bangladesh, or My Bangladesh" said while addressing a human chain.
He urged the Indian government to take immediate action against all types of oppressions on Muslims by extremist Hindus.
"If it continues and affects the overall political environment in the subcontinent, India will be responsible for that", he added.
He marked such attitude of Indian Hindus to Muslim community as one kind of inferior mentality and demanded for developing the environment so that all ethnic people can live in peace with each other.
The human chain was presided over by Maulana Majumder while it was addressed by Raihan Faruk, Tamim Hussain Shaon, Ferdaus Al Abir, Matim Hussain Shaon, Mahmudul Hasan, Imran, Salman Hussain and Nurul Alam.
The speakers said that all Hindus and other ethnic people are living with peace and safety in Bangladesh for decades though 90 percent people of the country are Muslim.
"India should take lesson from Bangladesh about peaceful co-existence of different ethnic people in a country", opined a speaker.
Indian administration should take immediate step against all sort of extremism, otherwise it may affect the country first. "So for their own safety and security they should stop inhuman practices against innocent Muslims".
Kamruzzaman