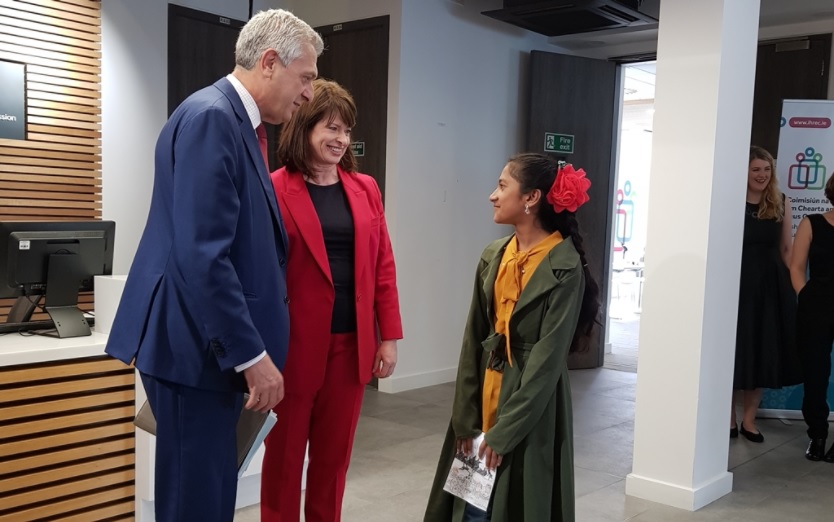 A Rohingya girl recently wrote an emotional letter to a UN high official seeking the organization's help in protecting tens of thousands of Rohingya children living in crowded makeshift camps in Bangladesh, reports Anadolu Agency.
"They have nowhere to go. They have no place to call home. They have no proper clothes on their bodies. They have no shoes under their feet. They have no books to read. They have no schools to go (to)," Jamalida Rafique, who now lives in Ireland, wrote to United Nations High Commissioner for Refugees (UNHCR) Filippo Grandi.
The 11-year-old girl migrated to Ireland from the Kutupalong refugee camp in Bangladesh's southern Cox's Bazar district with her parents when she was only eight months old.
Her close relatives – including her grandmothers, uncles, aunts and cousins -- are still living in the camp, which she visited with her father in 2017 and 2018.
As a citizen of Ireland, Jamalida has no lack of food, clothing and shelter. She is studying in Ireland and enjoying all the basic rights of a citizen there.
But she is not happy. Her cousins along with other children from her community are living in Bangladesh as stateless refugees without access to education and other basic human rights.
"I am now a proud Irish citizen. I have so many Irish friends. I have so many good Irish neighbors. I have so many good teachers. I have so many books to read. I have an education. I have hope," she said in her letter.
"I wish the same for Rohingya refugee children and many around the world. You have seen their suffering with your own eyes. I have seen them with my own eyes. You have seen their new lives with your own eyes. I am the witness of that new life."
According to a UN statement issued in April this year, almost half of the 540,000 Rohingya children in the camps in Bangladesh are under the age of 12 and are missing out on an education altogether, while the remainder only have access to very limited schooling.
"Only a handful of [Rohingya] teenage children are currently able to access any form of education or training," it said.
Pointing to the need of education for all Rohingya children, Jamalida urged the UNHCR chief to work for them.
"You have a voice to speak for them. You have the power for change. You can bring hope to children without a home and hope.
"Please stand up for their education the way many people have stood up for mine. Please give them a new chance the way I was given [one] for my new life. All children need education like me. All children need hope. All children need a future."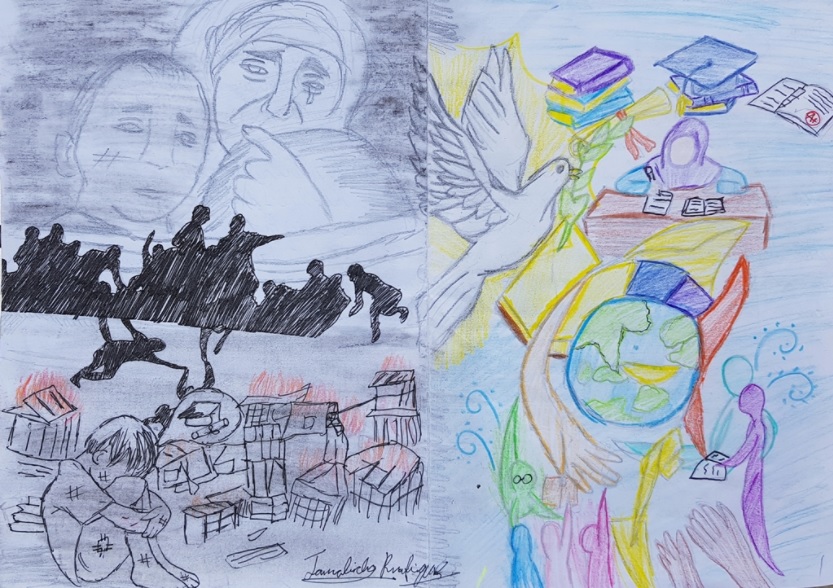 The Rohingya, described by the UN as the world's most persecuted people, have faced heightened fears of attack since dozens were killed in communal violence in 2012.
According to Amnesty International, more than 750,000 Rohingya refugees, mostly women, and children, have fled Myanmar and crossed into Bangladesh after Myanmar forces launched a crackdown on the minority Muslim community in August 2017.
Since Aug. 25, 2017, nearly 24,000 Rohingya Muslims have been killed by Myanmar's state forces, according to a report by the Ontario International Development Agency (OIDA).
More than 34,000 Rohingya were also thrown into fires, while over 114,000 others were beaten, said the report, titled "Forced Migration of Rohingya: The Untold Experience".
Some 18,000 Rohingya women and girls were raped by Myanmar's army and police and over 115,000 Rohingya homes were burned down and 113,000 others vandalized, it added.
Jamalida is also heartbroken over the inhuman treatment that thousands of Rohingya Muslims faced in their homeland.
She attempted to express her sadness through a painting she sent to the UNHCR chief.
She tried to focus on how the Rohingya Muslims fled a military crackdown in Rakhine to Bangladesh and how they are now living in squalid makeshift camps in Cox's Bazar.
The painting shows a Rohingya teenager sitting alongside the congested camps with her head hidden between her knees, reflecting the hopeless lives of tens of thousands of Rohingya children there.
She also sent another painting showing a girl studying at a table in a room with books and a beautiful bird. The picture represents the lives of those children across the world who have a dream in life and a promising future.
In reply to a query from Anadolu Agency on what inspired her to write such a letter and draw such pictures, Jamalida said: "I talk to my grandmothers, uncles, aunties and cousins [almost] every day. I hear sad stories from my cousins. They cannot study. When I visited the Kutupalong refugee camp in 2017 and 2018, I saw many children doing nothing."
"When I heard Filippo was coming to Ireland, I asked my father if I could send him some drawings and a letter about [Rohingya] children. He allowed me, and I did it."
"My main message is that people who have power should be role models. They can bring changes if they do a little bit more. Children are the future. Freedom of education is very important. We should not allow our future to be destroyed," she said, referring to Rohingya.
Jamalida added that it is her duty to work for all helpless children, including those from her own community.
Kamruzzaman