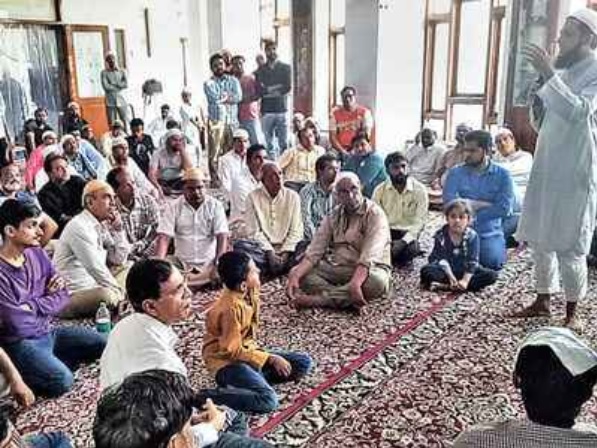 Jivajirao Patil always believed that non-Muslims were not allowed to enter a mosque till he visited one. He was among the two dozen Hindus who spent two hours inside Mira Road-based Sana Masjid recently, reports the Times of India.
"It is a wonderful feeling. Today I learnt that anybody can come here. No one enjoys a special status as a poor can occupy his place in the first row if he comes early while the world's richest man may stand at the end if he comes last," said a visibly overwhelmed Patil.
Welcome to Masjid Parichay—an initiative of religious organization Jamaat-I-Islami (Hind) that introduces mosques to non-Muslims.
This past Sunday's Parichay was held in association with JIH's student wing Students Islamic Organization (SIO) by Millat Welfare Association, which manages the Mira Road mosque.
"We had been thinking about it for some time and then SIO volunteers helped invite the guests and organize it," said the association's trustee Iqbal Mahadik.
Fear of the unknown, said JIH's volunteer Dr Parvez Mandviwala who conducted the demonstration for Hindu visitors at the Sana Masjid recently, has created misconceptions.
"A Muslim's life revolves around the mosque from birth till death. So, while a local imam may whisper azaan in the ears of a newborn, another may be called to lead the namaz-e-janaza (funeral prayer) of the same person. The takht or the platform to wash a dead body before it enters the grave is also often kept in a mosque's corner," said Dr Mandviwala, pointing visitors to a takht in a corner.
But before they were ushered into the AC mosque's carpeted main prayer hall, the guests watched the steps involved in wadu or ablutions.
"It is to purify oneself before one stands before God in submission. Islam means peace and its other meaning is submission. So you submit to God with a clean body and mind," says Dr Mandviwala.
Over several months, JIH has held many such visits aimed at removing misconceptions about mosques and fighting Islamophobia. "The most important thing I learnt here is that the mosque is very peaceful and gives out a message of peace and unity," said Ashish Pandey.
Though it was not a Friday, the imam Maulana Akbar delivered a short sermon featuring a message on unity, humanity and equality.
As they moved out after witnessing the muezzin call out for the evening prayer, visitors received copies of the Quran, hadiths (the Prophet's sayings) and packets of snacks.
Kamruzzaman