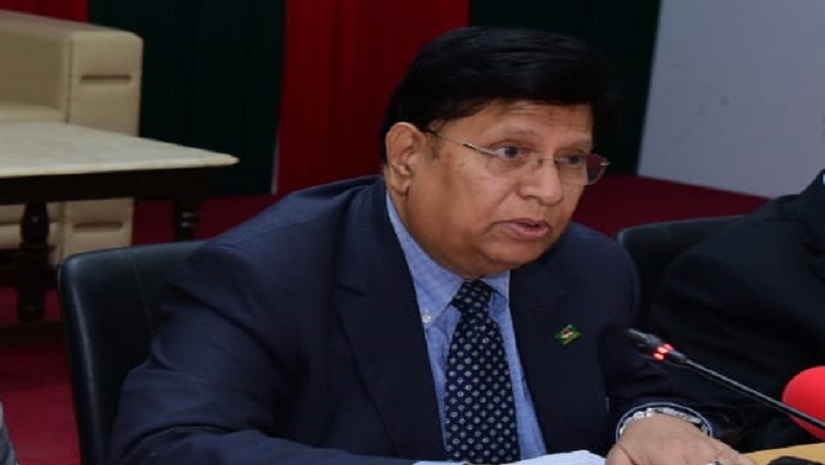 Bangladesh foreign minister A K Abdul Momen on Wednesday warned neighboring India of losing its historic secular character through the proposed citizenship law, state-run Bangladesh Sangbad Sangstha news agency reported.
"India is historically a tolerant country which believes in secularism [...] their historic position will be weakened if they deviated from that," Momen told reporters emerging from back to back meetings with Japanese ambassador and US ambassadors in Dhaka Ito Naoki and Earl R. Miller respectively.
He added that the "Citizenship Amendment Bill, 2019" passed two days ago in the lower house of India's bicameral Parliament, or Lok Sabha, could weaken the country's "historic position" as a tolerant and secular country.
The minister also ruled out allegations raised in Indian parliament that Bangladeshi minority communities were being tortured.
"It's not true that torture on minority is taking place in Bangladesh," Momen said in reply to a query by journalists on the allegations made by the Indian Union Home Minister Amit Shah in Lok Sabha. "Whoever gave them the information, it is not correct."
He added that Bangladesh and India were currently were enjoying close friendly relations "that is termed as 'golden chapter'" of bilateral ties and "so, naturally our people expect that India won't do anything that could create anxiety among them".
Momen said Bangladesh maintains strong religion harmony and ensures that followers of all faiths enjoy same rights in every area including the job sector.
"Many important decisions of our country are taken by persons belonging to different religions [...] we never judge anybody by their religion, we treat all as Bangladesh citizens," he said expecting the minority community representatives to echo his remarks.
Shah, who also heads India's ruling BJP, claimed that torture on Hindu communities in Bangladesh alongside Afghanistan and Pakistan were taking place, as a fierce debate was underway for nine hours in Lok Sabha on the bill which eventually was passed amid protests from opposition parties and various groups.
Momen said during his meeting with Miller, the US envoy expressed as well his country's concern about the Indian bill as they believe in religious freedom.
"They (USA) are being critical about that . . . they believe India weakened its position by doing it (passing the bill)," he said.
US Commission on International Religious Freedom (USCIRF) sought sanctions against Amit Shah and other principal Indian leadership if the bill was passed by both houses of Indian parliament describing the draft law as a "dangerous turn in the wrong direction".
Kamruzzaman