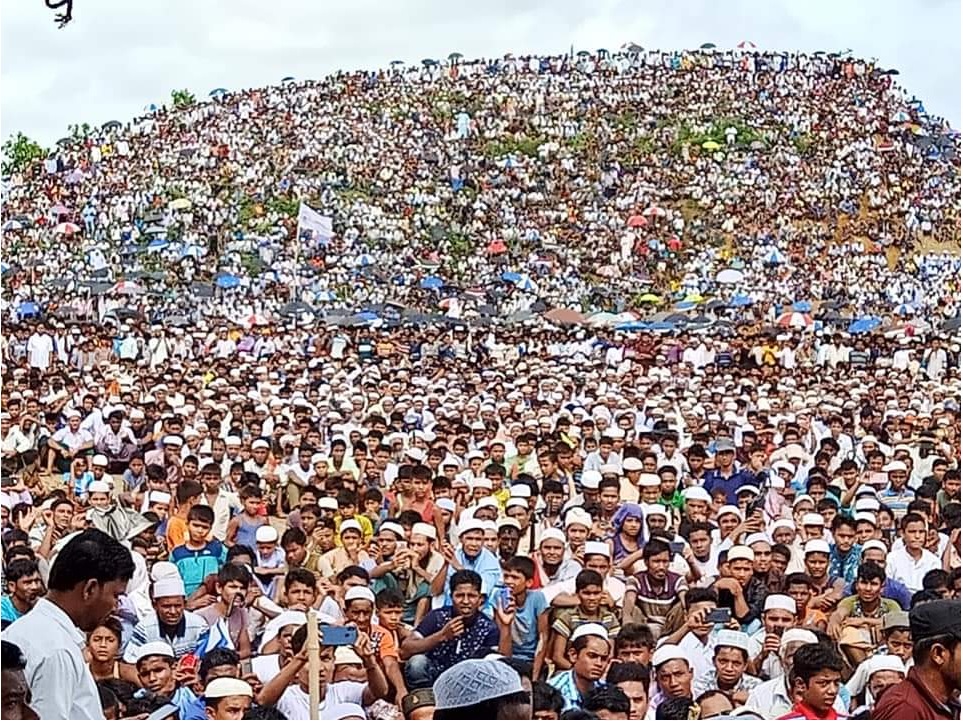 Experts at the first Rohingya-Rakhine online seminar Thursday urged reconciliation of minority Rohingya Muslims and Rakhine Buddhists to restore sustainable peace in Rakhine state in Myanmar.
"Interestingly we are seeing many Rakhine brothers and sisters, and Rakhine media changing their attitude towards us. It gives us an opportunity to start contemplating and aspiring to a Rohingya - Rakhine reconciliation," Ro Nay San Lwin, co-founder of Free Rohingya Coalition said at the conference.
The Forces for Renewal of Southeast Asia (FORSEA) in collaboration with the School of Oriental and African Studies (SOAS) and Free Rohingya Coalition (FRC) organized the "What Future for Rakhine?: End Games for the Arakanese (Rakhine, Rohingyas and Other Co-habitants)" seminar.
Referring to the divide and oppressive policies of the Myanmar government, Lwin said: "Rohingya - Rakhine reconciliation is the opposite of what the Myanmar government wants. They don't want these two communities to get back together."
He accused the Aung San Suu Kyi administration of still holding colonial attitudes toward the oppressed -- not only Rohingya but also other ethnic communities.
"Since the armed conflict erupted between the Arakan Army and the Myanmar military in late 2018, many thousands in Rakhine have been displaced. Hundreds of innocent civilians have been killed. There has been rape too. Rohingya have also died."
He focused on the long history of violence in Arakan [currently Rakhine] state under the patronization of external powers. "Even before Burma [Myanmar] gained independence from the British, Rohingya and Rakhine were divided by the machinations of foreign powers. However, we have lived peacefully side by side," he said.
"Decades of toxic political thought, speech and action created further divisions between the Rakhine and Rohingya. Most of the politicians from the Rakhine community supported violence against us," said Lwin.
Morphed into colonizers
Maung Zarni, co-founder of FRC and FORSEA, said "three successive generations of Burmese generals and politicians have morphed into colonizers with brown faces, violating every pre-independence promise, signed agreement and written foundational Constitution of modern post-British Burma, while extracting rich resources and revenues and grabbing vast agricultural land from majority Burmese farmers and all minority regions - at gunpoint."
Condemning prevailing political trends in Myanmar, he said: "The political institutions and law remain steep in their old repressive character, mode of operations and purpose harking back to the British colonial rule of 1860's onward."
Emphasizing the long term program for de-colonizing of the Myanmar state, he urged "re-imagining a new type of genuinely post-colonial society and a cluster of autonomous regions with a set of inclusive national and regional identities based on common good, multiculturalism, and respect for all faiths. For instance, Arakanese for all inhabitants of Rakhine or ancient Arakan, including Rohingya, Rakhine and other identity-based communities of the Rakhine region."
"And Rohingya and Rakhine Buddhists seeking reconciliation openly via our seminar is a first step in the right direction," Zarni added.
500 years of Rohingya-Rakhine peace
US-based Rohingya rights activist Sharifah Shakirah, however, said "there was a history of more than 500 years of Rakhine and Rohingya living peacefully in Arakan state side by side."
"But for past more than 70 years, the Burmese played a 'divide and rule' policy toward Arakan and created problems between Rakhine and Rohingya," she said, adding that policies of Burmese Imperialists toward Rohingya and Rakhine appear to have been that they would totally destroy Rohingya as a group of people or commit genocide against them.
She accused Myanmar's military-backed government of conspiring to keep residents of Rakhine as its permanent slaves or inferior to Burmese.
"Therefore, falling into this 'divide and rule' trap by Burmese imperialists, as some sections of the Rakhine community actively collaborated with Burmese imperialists against Rohingya people," she said.
The seminar was conducted by Michael W. Charney of SOAS while C. R. Abrar, Executive Director of the Refugee and Migratory Movements Research Unit, Dhaka, Bangladesh and Katherine Southwick, Atrocity Prevention Expert, also spoke, among others. [Source: Anadolu Agency]