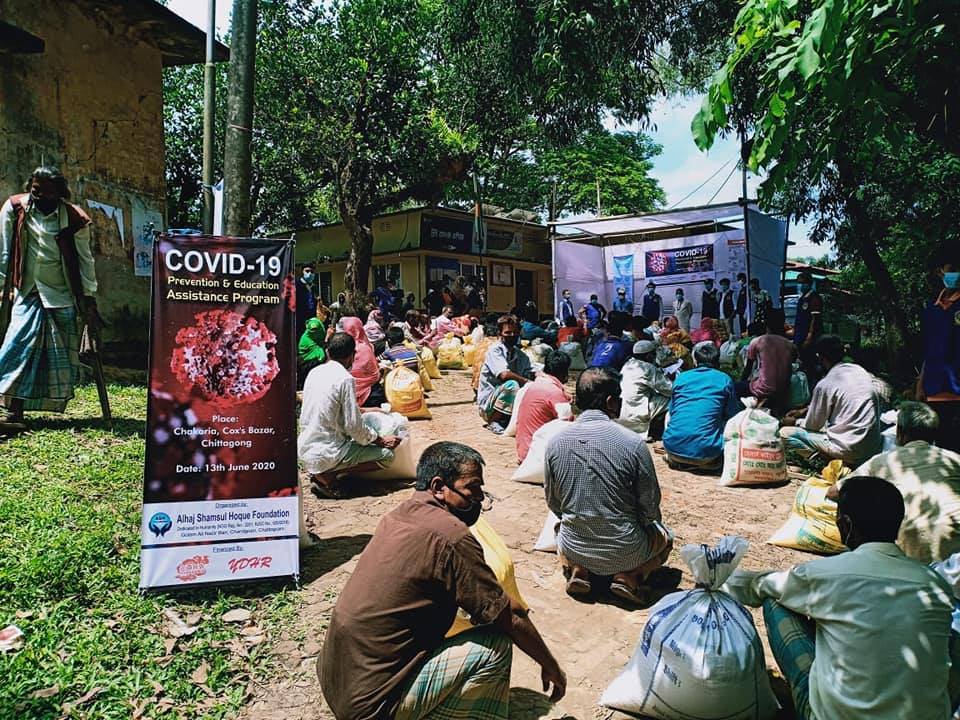 Alhaj Shamsul Haq Foundation has distributed emergency gift items among students and their families. The gifts comprising of emergency foods were distributed Sunday morning among nearly 100 families of Harbang Girls High School students at Chakoria in Chottogram.
The project, approved by the NGO Affairs Bureau of Bangladesh Government, was implemented in front of the Harbang Union Council at Chakoria 1.
Each package of food items weighing 26 kilograms contains rice, dal, oil, potato, onion, chira (cracks) for single family was distributed following coronavirus health guidelines and social distancing.
The project has been funded by reputed Chinese NGO, Kunming Yundi Behavior and Health Research Centre (YUNDI).
In the second phase, health protective equipment has been distributed among 200 students at noon on the day. One hand sanitizer, 5 face masks, 4 pieces of soaps and a leaflet stating necessary guidelines have been served to each student. After handing over the protective equipment delicious food [Khichuri] has been served among the students.
Local administrative head of Chakoria Union, UNO, Syed Shamsul Tabrij inaugurated the project while local government representative, chairman of Harbang Union and ruling Awami League party president, Miranul Imran Miran, attended. Foundation's advisor and Professor of Chemistry Department at the Chottogram University, Dr Ismail Hossain, was also presented at the program as the chief guest and chairman of the foundation Engineer Muhammed Nasir Uddin presided over the function.
On behalf of the project Bangladeshi expatriate in China, Dr. Misbahul Ferdaus, has been thanked for his cordial cooperation. The briefly held distribution ceremony was moderated by Government Anwara College's lecturer Sayedul Abrar, who is also the treasurer of the foundation.
Local Union Council member Muhammad Harun, Muhammad Ilias, assistant revenue official Salah Uddin and foundation's official Nurul Anwar Munna also attended the program among others.