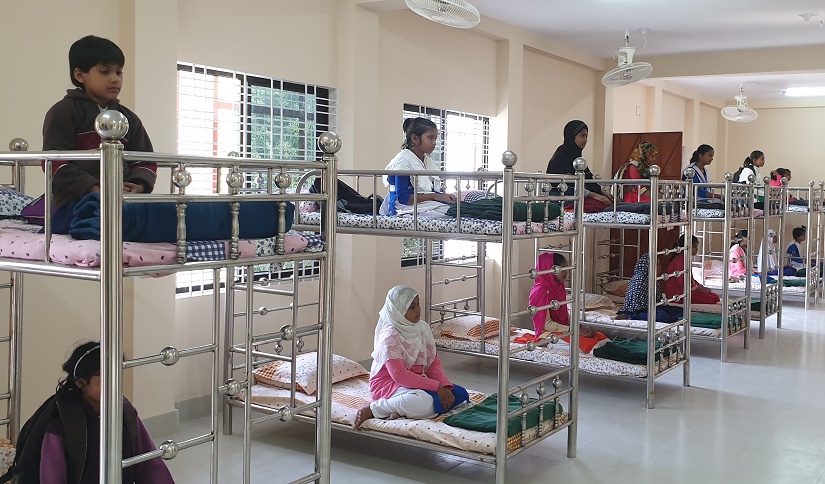 Kushtia's wretched child, Rabeya Basri, lost her parents at the age of 3 after her arrival on earth. There was no one to care for this desolated child. Rabeya was spending her pity days as like one month here, another month there. Thus, after 1 year, she was sheltered at `Haji Kiamot Ali Gedironnesa Orphan Girls Child Home' in Kushtia, which has become changes in her life. Getting food, clothes, education and treatment facilities from the Child Home, Rabeya's Sorrow days turned into happy days.
In December last year, an internationally reputed NGO `Qatar Charity' erected the new building at the `Haji Kiamot Ali Gedironnesa Orphan Girls Child Home' (Donors name, Rukaiya Ibrahim Faraj us Sultan) located in Kushtia district. This is named `Orphan Building', where there is a healthy environment to live.
A total of 4 orphan buildings was constructed in different districts of Bangladesh late last year, funded by the Qatar Charity. Its value is more than 1.3 million Qatari real. These four buildings with different facilities have replaced the old defiled buildings and an unhealthy environment.
We couldn't sleep at night
It was a very dilapidated tin shed and made of clay house. On the day of the storm, it was soaked in rain. The sufferings of small orphans would not be limited. Qatar Charity Bangladesh took initiative to construct a beautiful building for the orphans in the wake of the appeal of the locals. The construction of the orphanage was completed in Sripur in Gazipur district around Dhaka, in July last year. The orphanage is known as the `Gazipur Bazar Orphanage'.
The director of the orphanage, Abu Lais, said it was a daydream for many to have such a beautiful orphanage at Gazipur Union in Sripur. The local people gratefully remembered the entrepreneurs for standing beside the orphans.
In the beautiful environment of `Gazipur Bazaar orphanage', there are now 60 orphans and with days more of the orphans will be accommodated. They are getting food, education, and treatment facilities. Here is also the playground.
The parents of the orphan child Jakarias' are no more. He joined this orphanage three years ago. 11 years child, Jakaria said, "It was very difficult for us to stay in the old house that was surrounded by tin. On a rainy day, the water wore on. All would be wet. We couldn't sleep at night. No more trouble now. By the grace of almighty Allah, we are all good.''
The orphanage teacher Md. Shahidullah said that 60 orphans are studying here in a beautiful environment. The guardians are bringing many orphan children here for admission as the Qatar charity creates a two-story building and a beautiful living environment. We are also trying to stand up to them as much as possible.
I am praying for them
Qatar Charity Bangladesh built the 'Habirbari Muslim Orphanage' (Donors name, Isa Mohammad and Mauza Juma) at Habirbari Union in Baluka Upazila of Mymensingh district in August last year.
Sohrab Uddin Sheikh, director of the orphanage, said that before the construction of the two-storied building funded by the Qatar Charity, the orphanage was dilapidated and unhealthy. Nobody wanted to be admitted here. But today's environment is very beautiful and modern.
In spite of the orphanage just starting, there are already 70 orphans getting the opportunity to meet all basic needs at this orphanage. Apart from food, there is education and basic treatment.
Emon Hasan, an 11 years child, studying in fifth grade, is a student of the orphanage. Emon said, his mother Yasmin Begum admitted him here, after his farmer's father died in lightning. This orphanage is his home now. There is nothing lacking here, no trouble. He wants to become a real person by studying.
Rashida Khatun, a mother of another orphan student named Rakib Hasan, said, "I had no ability to teach my son. Knowing the beautiful surroundings of the Habirbari Muslim orphanage, I have given the boy to study here.'
She said, `I have heard that the people of Qatar built this orphanage. I am praying for them. May Allah bless them in this world and in the Hereafter.
Locals are very happy
Abdul Ahad, Director of 'Madrasatul Madina and Orphanage' in Natore, said the new orphanage (Donors name, Mohammad Naser and his Wife) has created a beautiful environment for poor and disadvantaged children to live and grow here. As a result, locals are very happy. Those who are donated for the construction of this building, people always pray for them.
He said the orphanage's reputation for a modern and healthier environment, including living and eating in the new building, has increased. Parents are also rushing to admit orphans and grieving children.
`Madrasatul Madina and Orphanage' is located in Dighapara village of Bagatipara police station in Natore district. The orphanage was built here in December last year, funded by the Qatar Charity. Currently, there are 90 orphans and underprivileged children studying here. At the same time, there is a provision for them to live, eat, and treat in a better and cleaner environment.
Zubair Ahmed (11 years), an orphan student of Madrasha, said, "I have lost my father. 5 years ago, my mother admitted me here. There was no building then. It was difficult to stay. And now everything is fine and beautiful. No problem at all. By the grace of almighty, we are well and good.''
Facilities and beneficiaries of 4 orphan centers in brief
Each two-story orphanage building has a size of 350 square meters, each of which includes a classroom, living room, dining room, computer room, office room, kitchen, and toilet.
A total of 800 where 200 in each, can enjoy these benefits. After the construction work, the orphanage buildings were opened late last year. It costs about 1.3 million Qatari real. The orphanages are managed by the locals, who also manage the overall expenditure from different sources.