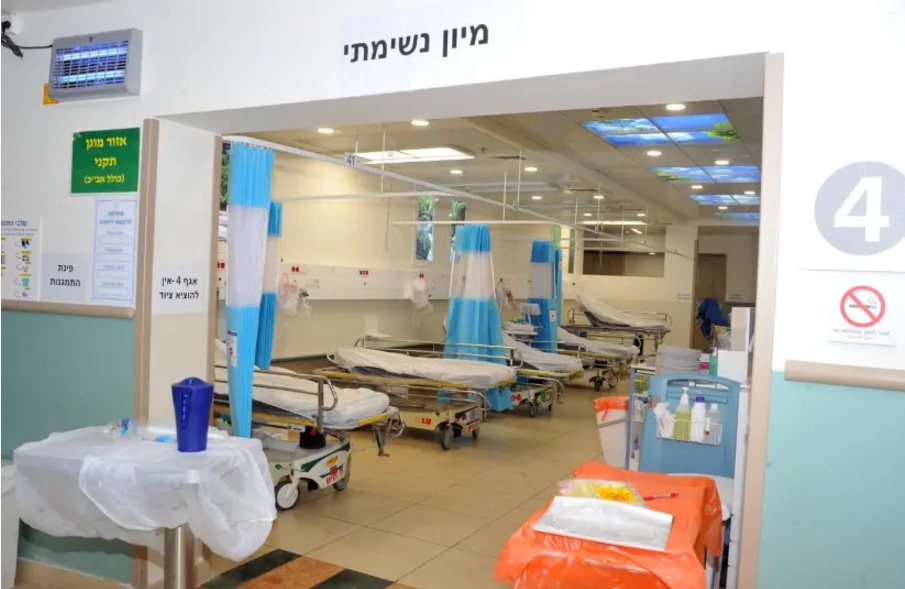 Prime Minister Benjamin Netanyahu ordered authorities over the weekend to prepare to significantly tighten restrictions on movement starting Sunday, aiming to further reduce the number of people leaving their homes and, to hopefully, contain the spread of the novel coronavirus.
Should there not be a change in the trend of infections over the weekend, Netanyahu warned, a full shutdown of the country will be necessary. The warning followed a meeting with ministers and ministry director-generals, during which the Finance Ministry was tasked with developing a plan for a further reduction of the country's labor force.
The prime minister also ordered stepped up enforcement in supermarkets and pharmacies to ensure that the Health Ministry's directives on crowding are adhered to.
However, according to Health Ministry officials, as of Saturday there was slower than expected growth in the number of infected Israelis: Some 3,619 people have been diagnosed with coronavirus - an increase above 1100 cases during the weekend.
Twelve individuals have died to date - all elderly individuals with underlying conditions. Among the confirmed cases, 54 are in serious condition, and 89 individuals have recovered. Some 43 people are intubated.
The greatest challenge seems to be within the Haredi (ultra-Orthodox) neighborhoods where the numbers per 10,000 people are among the highest: Kiryat Ye'arim 53, Kfar Chabad 38, Bnei Brak 13 in comparison to four in Tel Aviv or 1.5 in Haifa.
Netanyahu's proclamation came on the backdrop of an announcement by the Health Ministry that it will increase the number of people it tests for coronavirus to 30,000 per day within the next month. On Friday, some 6,000 tests were taken, and that number is expected to increase to 10,000 by mid-week, a decision that Defense Minister Naftali Bennett called "tremendous news."
Due to a technical problem, however, the Health Ministry said test results from the country's 27 laboratories were delayed on Saturday.
Morris Dorfman, head of Regulation, Digital Health & Information Systems Directorate at the Health Ministry, said that the results of eight tests were reported incorrectly by two laboratories to the ministry. The results had not yet been transferred to the patients in question, he said, and operations at the laboratories were continuing as normal.
On Saturday evening, Netanyahu is set to convene a meeting with finance officials to finalize a delayed plan to support the economy and businesses struggling as a result of measures to contain the coronavirus.
The scope of the financial aid package requested by Netanyahu is set to be about NIS 80 billion, or 6% of GDP, including increased government-backed loans, deferred compulsory business payments and deferred taxation. It was also decided to include an NIS 5b. fund to bail out large businesses.
The plan, which will likely be presented for approval at Sunday's cabinet meeting, will be in addition to NIS 8b. in support already allocated to businesses, primarily in the form of low-interest, government-backed loans.
On Friday, the government approved a series of emergency financial support regulations, including the provision of unemployment benefits for citizens over the age of 67 - estimated to stand at some 135,000 individuals. Individuals will receive up to NIS 4,000 if they were forced to leave work due to the outbreak.
"This is a significant and unprecedented step that shows the ongoing assistance of elderly citizens, especially those in the employment sector over retirement age," Labor Minister Ofir Akunis said.
Among the latest casualties of the coronavirus was a 73-year-old man from Haifa with underlying conditions. His wife, 71, remains hospitalized at Haifa's Rambam Medical Center with coronavirus.
A 93-year-old man hospitalized at Soroka Medical Center, an 80-year-old man admitted to Wolfson Hospital and a 76-year-old woman treated at Rabin Medical Center also died at the weekend.
Jerusalem and Bnei Brak - home to many haredi (ultra-Orthodox) residents - lead the nation in numbers of coronavirus patients, with 352 and 267 cases respectively, Channel 12 reported. The largely secular city of Tel Aviv, home to more than double the number of residents living in Bnei Brak, also has 267 cases of the virus.
As of Saturday afternoon, police said they had issued 1,296 fines to date to individuals and businesses for defying Health Ministry directives.
A total of 849 fines were issued for prohibited activities in public; 152 fines for being present in a banned location; 108 for refusing to disperse from crowded locations; 105 for operating a forbidden business; and 73 for defying self-isolation orders. [Source: Jerusalem Post]
Kamruzzaman