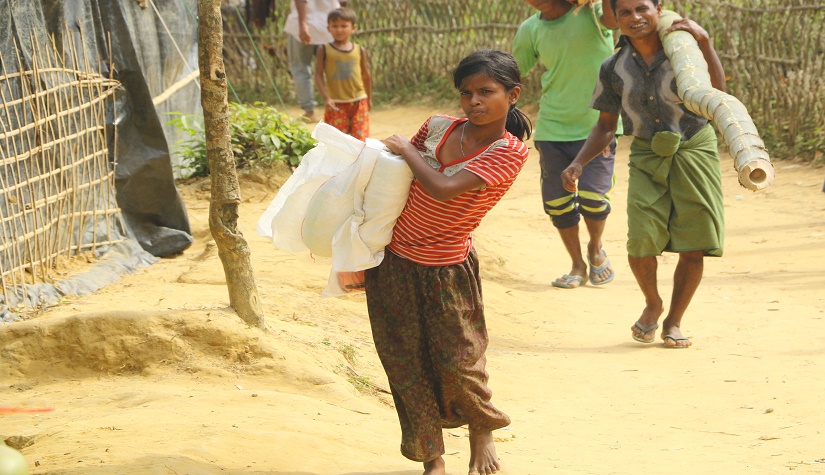 Nineteen-year-old Mohammad Amin is one of the 54 Rohingya refugees who each paid 45,000 Bangladeshi taka ($532) to local traffickers to go to Malaysia earlier this month.
For three days and two nights they believed they were on a boat headed to Malaysia where they would be taken for a job.
They were instead left stranded on Narikel Jinjira, or Coconut Island, a remote coral islet of Bangladesh.
The 32 men and 22 women had to pay an additional 500 taka ($6) each for traffickers to take them back to makeshift camps in Cox Bazar.
The story illustrates the great lengths and financial difficulty Rohingya face as many try to flee the makeshift squalid refugee camps in Bangladesh.
"I have no future in Bangladesh. Here I am living just as like a prisoner depending on the mercy of others. I have no job, no properties here. I wanted to live as a human being in Malaysia. But I have been cheated," Amin told Anadolu Agency.
The Rohingya, described by the U.N. as the world's most persecuted people, have faced heightened fears of attack since dozens were killed in communal violence in 2012.
Amnesty International says more than 750,000 Rohingya refugees, mostly women and children, have fled Myanmar and crossed to Bangladesh after Myanmar forces launched a crackdown on the minority Muslim community in August 2017. The number of persecuted in Bangladesh is greater than 1.1 million.
Nearly 24,000 Rohingya Muslims have been killed by Myanmar's state forces since Aug. 25, 2017, more than 34,000 have been thrown into fires, while north of 114,000 were beaten.
Another 18,000 Rohingya women and girls were raped by Myanmar's army and police and greater than 115,000 Rohingya homes were burned and 113,000 others vandalized.
Authorities in Myanmar say Rohingya are illegal Bengalis and deprive them of citizenship rights under a controversial 1982 citizenship law.
But a commission led by the late former U.N. chief Kofi Annan that was created in 2016 by Myanmar's civilian leader Aung San Suu Kyi, criticized the law.
"Several aspects of the 1982 Citizenship Law are not in compliance with international standards and norm," it said.
Nur Zahan lives in a congested room at the Kutupalong camp with her five daughters. Her husband was shot dead by the Myanmar army in the 2017 crackdown in Rakhine State and she is afraid of returning.
"We may be killed if we return home country, we are also not good here," Zahan said. The lone consolation at the camp is that "we are survived and none is standing at my door with arms to kill us," she said.
"I have no dream for me now, but I am worried about the future of my daughters. If I have any chance to shift to any other country, I must leave," said Zahan the 45-year-old widow.
For Zahan, it's fear of her daughters' future. For Begum Bar, it's her children getting a job that keeps her worried.
Bar fled Rakhine with her husband, their three daughters and two sons. Only a few days after they arrived in the crammed refugee camp in 2017 her husband died after a long and terrible journey to Cox's Bazar.
"If any of my children go to Malaysia, he or she can earn more money and later we will have chance to shift there," she said.
Frustration is also mounting among refugees over the illiteracy of a new generation.
The UN said last month almost half of the 540,000 Rohingya children are younger than 12 and are currently missing education altogether, while the remainder has access only to very limited schooling. "Only a handful of [Rohingya] teenage children are currently able to access any form of education or training," it said.
Nurul Amin, 21, hopes to continue her schooling that was interrupted at class 10. "I wish to go abroad if my luck is in favor of me and continue my study there. I am totally hopeless now about peaceful repatriation and our safety and dignity in Myanmar."
But getting abroad will be a difficult task for Amin. Without proper documents and work permits, trial and imprisonment awaits.
But Ansar Ali told Anadolu Agency those problems do not last long. "Firstly, my brother was pushed behind bars [in Malaysia] and after 10 months he was released and provided with UN identity card. Now he is a construction worker on daily basis." He makes 70 Malaysia's ringgit ($17) per day.
A review of local and international media found in the first five months of 2019, at least 500 Rohingya refugees have been rescued by security forces fleeing or trafficking.
Government administrative chief of Cox's Bazar district Mohammad Kamal Hossain said security forces, including coast guards, Border Guards of Bangladesh and police are on high alert against traffickers.
"They are trying to use the helplessness and frustrating state of the Rohingya refugees to entrap them," Hossain told Anadolu Agency.
Dr. Chowdhury Abrar, an international relations professor at Dhaka University, told Anadolu Agency the day-by-day uncertainty is mounting for the peaceful repatriation of Rohingya refugees to their homeland with safety and dignity.
"Even in Bangladesh Rohingyas are not being treated as refugees, they are considered as illegal migrants. It means that there is no dream in front of Rohingya Muslims," Abrar said.
"Frustration is rapidly gripping this persecuted people and they are now desperate to take any risk in the hope of better life elsewhere."
Bangladesh's Refugee Relief and Repatriation Commissioner (RRRC) Mohammad Abul Kalam told Anadolu Agency that Bangladesh is trying its best to serve Rohingya refugees with limited resources.
"But without ensuring peaceful repatriation with safety and dignity, the growing frustration among them could not be redeemed," Kalam said.
In November 2017, Bangladesh and Myanmar agreed to start repatriation within two months following talks between Myanmar's civilian leader Aung San Suu Kyi and Bangladesh's Foreign Minister A.H. Mahmood Ali.
But international concerns about safety and dignity issues the repatriation process has been delayed and there is no visible sign of starting in the near future.
Bangladesh's Prime Minister Sheikh Hasina issued three recommendations last September to the UN for solving the Rohingya crisis, including the abolition of discriminatory laws, policies and practices of Myanmar against Rohingya; creating conducive environment inside Myanmar for guaranteeing protection, rights and pathway to citizenship for all Rohingya and a fair trial of Myanmar's atrocities in Rakhine in the light of the recommendations of the Fact-Finding Mission of the UN Human Rights Council.
Rohingya who spoke to Anadolu Agency, leaving Bangladesh for Malaysia or any other country would be a good option.
"Please help us to back our motherland, Rakhine, with safety and citizenship rights," said Amin, the 19-year-old who was duped by traffickers. "We will not try to be illegal migrant to another country."
Kamruzzaman