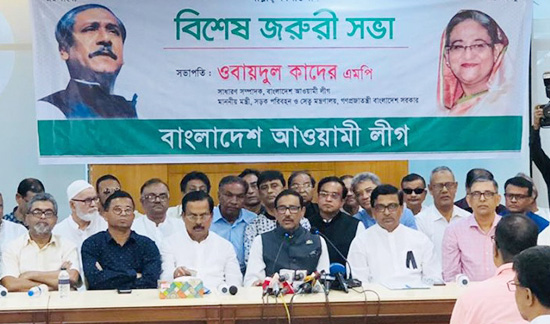 The ruling Awami League (AL) party General Secretary and Road Transport and Bridges Minister Obaidul Quader on Tuesday urged city councillors and party leaders and activists to continue cleanliness drives aiming to deal with the dengue menace, state-run Bangladesh Sangbad Sangstha news agency report said.
"You – AL ward presidents and general secretaries – should cooperate with city councillors in carrying out cleanliness drives," he said at an emergency meeting of the party at its Bangabandhu Avenue Central Office in capital city Dhaka.
Stating that aedes is a deadly mosquito, Quader said once it gets chance, the mosquito will bite, calling upon people to stay alert against aedes mosquito and continue cleanliness drives to prevent dengue prevalence.
"We carried out anti-dengue progarmmes in some places. After that, aedes mosquito and its breeding grounds were not destroyed in all places. Dengue prevalence could not be prevented. And that's why we should stay alert against aedes mosquito," he said.
Quader said cleanliness is a precondition of destruction of mosquito breeding grounds, so cleanliness programmes must continue.
Dengue patients are on the rise in Dhaka city and dengue situation is yet to be brought under control, he said, adding "We've taken the dengue prevention programme seriously and as per the instruction of Prime Minister Sheikh Hasina, we've been working in this regard".
About the comments of BNP secretary general Mirza Fakhrul Islam Alamgir over 'dengue rumours', Quader said: "If there is no media in the country, a big party like BNP would not be found. They have failed in all fields. They do not come forward to prevent dengue. They do not stand by flood victims. Their residential representative only holds press conference."
AL joint general secretaries Md Mahbubul Alam Hanif and Jahangir Kabir Nanak, its organising secretaries AFM Bahauddin Nasim and Enamul Haque Shamim, central committee members Kamrul Islam and SM Kamal Hossain, AL Dhaka South City general secretary Shahe Alam Murad and Haji Selim, MP, were, among others, present.
Kamruzzaman