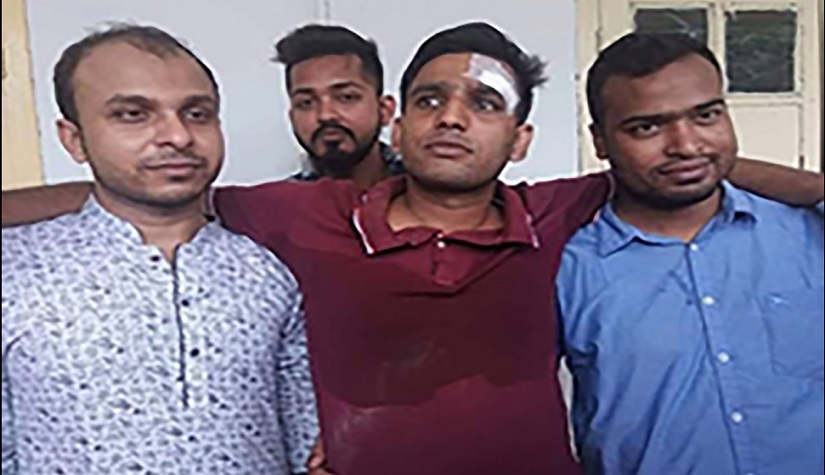 Two central leaders of Bangladesh Chhatra League (BCL), student front of ruling Bangladesh Awami League party, have been injured in a scuffle over sitting in the car of the student body's president on Tuesday, reports United News of Bangladesh.
The leaders – Mohammad Touhidul Islam Chowdhury Zahir and Shahriar Kabir Biddut – are vice-presidents of the student body.
Witnesses said they got into an altercation in front of BCL President Rezwanul Haque Chowdhury Shovon when Zahir got into the backseat of the car.
Both were slightly injured in the scuffle near Madhur Canteen. Biddut received first aid at Dhaka University Medical Centre.
Zahir rejected allegations of assaulting his fellow BCL activist.
Shovon, the student body President, termed the scuffle a "personal conflict".
Quoting eyewitnesses as saying the Daily Star adds, BCL president Shovon boarded his car at 1:00pm to go somewhere from Madhur Canteen. Along with Shahriar and Touhidul, senior vice-president Al Nahian Khan Joy was also inside the car with the president.
After going few yards, the car stopped and everyone except Shovon got off. Then, Touhidul and Shahriar started to hit each other with bamboo sticks and brickbats, eyewitnesses said, adding that the scuffle originated from disagreement over the sitting arrangement inside Shovon's car.
Later, Shovon hurried down from the car and refrained them from fighting, eyewitnesses also claimed.
Shahriar, who got a cut over his left eye, was admitted to Dhaka Medical College Hospital (DMCH) immediately while BCL president Shovon took Touhidul away in his car. Shahriar received six stiches.
Journalist allegedly harassed by BCL
Dhaka University correspondent of the Daily Inquilab, Nur Hossain alleged that Chhatra League President Rezwanul Haque Chowdhury and Senior Vice President Al Nahyan Khan forcibly dragged him into the car when he was filming the incident of scuffle.
The BCL leaders forcibly deleted the video from Nur's mobile and dropped him from the car at Hatirpool area.
Asked about the matter, however, the president and senior vice president have denied the allegations.
Kamruzzaman