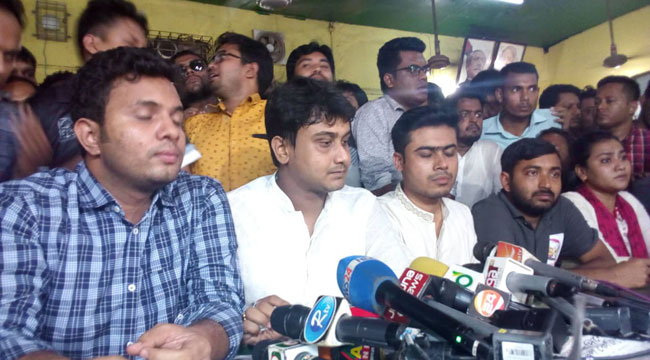 Acting president of ruling Bangladesh Awami League party's student front Chhatra League, Al Nahean Khan Joy, on Sunday said if any evidence of extortion or tender manipulation against any activist of the organization is found stern action will be taken against him or her instantly.
He came up with the remarks while speaking at a press briefing at Madhur Canteen of Dhaka University, reports United News of Bangladesh.
Speaking at the press briefing, Bangladesh Chhatra League (BCL) acting general secretary Lekhak Bhattacharjee said, "The big challenge we're going to face is to form committees and arrange the next council within the next 10 months."
He said they want to make the student organization free from all controversies and operate it as per the instruction of Prime Minister Sheikh Hasina.
"We'll make BCL united under a single platform. There'll be no culture of one-man politics. We'll try to strength the hands of Sheikh Hasina," he added.
On September 14, BCL president Rezwanul Haque Chowdhury Shovon and general secretary Golam Rabbani were removed from their respective posts amid various controversies including threatening Jahangirnagar University Vice Chancellor over extortion.
Even Rabbani claimed the unlawful demand for tolls from the JU VC as 'fare share', rising severe criticism among mass people countrywide and put forward the controversial activities of the student front once again.
Later, No. 1 vice-president Al Nahean Khan Joy and No. 1 joint secretary Lekhak Bhattacharjee were given the charge of acting BCL president and acting general secretary respectively.
Kamruzzaman