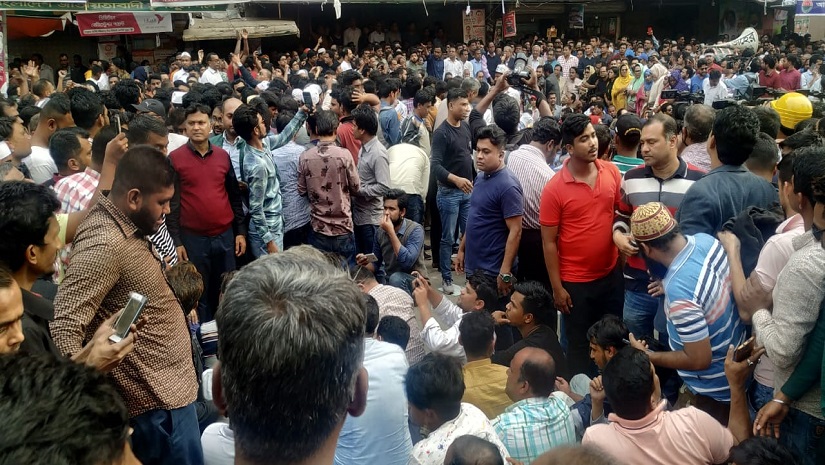 Bangladesh's main opposition political party, Bangladesh Nationalist Party (BNP), on Saturday staged demonstrations in front of the party's central office in Nayapaltan.
The leaders and activists of the party while demonstrating demanded for immediate release of its top leader and former Prime Minister Begum Khaleda Zia.
BNP Chairperson Begum Zia is behind bars for more than two years in two graft cases and was barred from participating in the December 2018 national polls.
The party's central committee earlier declared to hold demonstration on Saturday and planned to march towards the National Press Club from the central office.
The leaders and activists of the BNP, however, could not succeed to march towards the press club due to obstructions by police, reports United News of Bangladesh.
"BNP leaders tried to march towards the Jatiya Press Club with a procession but police did not allow us to leave Nayapaltan area, "said assistant office secretary Saiful Islam Tipu.
Being obstructed by police, BNP leaders and activists started their protest rally in front of its office around 2:30 pm, he added.
Earlier in the morning, police cordoned off the BNP central office ahead of the protest procession.
Law enforcers did not permit anyone to enter the office in the morning, BNP activists claimed.
On Wednesday, BNP secretary general Mirza Fakhrul Islam Alamgir announced the programme at a press conference.
He said they will bring out the procession from their Nayapaltan central office at 2pm on Saturday and it will end at the Jatiya Press Club.
Asked whether they got permission from police for their planned procession, Fakhrul said, "No permission is needed for holding such a programme. We'll only inform them about the programme."
Khaleda has been in jail since she was convicted in the Zia Orphanage Trust corruption case on February 8, 2018. She was found guilty in another corruption case later the same year, though her party claims both cases are politically motivated.
The BNP chief has been receiving treatment at the Bangabandhu Sheikh Mujib Medical University (BSMMU) since April 1 last year.
Meanwhile, two BNP leader including Fazlul Haq Milon were detained by police on Saturday afternoon, according to party sources.
Police, however, have not uttered anything about the detention of two BNP leaders.
Kamruzzaman