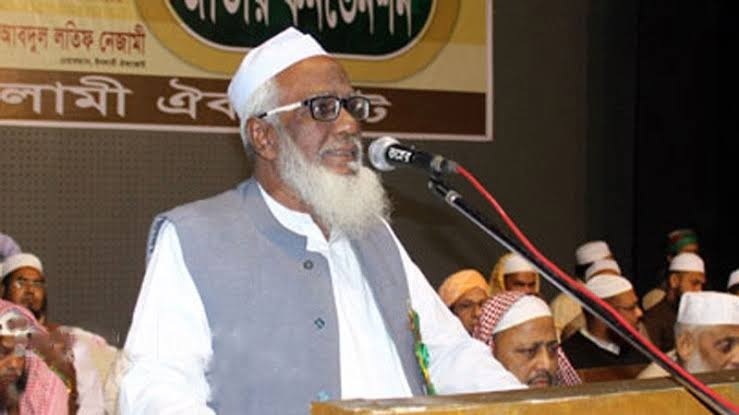 One of Bangladesh's Islamic political parties, Islami Oikya Jote (IOJ), Chairman Moulana Abdul Latif Nezami died on Monday night at a city hospital at the age of 84 years.
Nezami was taken to capital Dhaka's Islami Bank Central Hospital after he fell sick in the evening where he breathed his last around 8:25pm [1400GMT].
Rashedul Haque, younger son of Nezami, told some local media that his father collapsed in the bathroom when he went there to preform Oju (ablution) for Magrib prayers.
"Instantly we took him to the Islami Bank Central Hospital at Kakrail where on-duty doctors declared him dead," Haque said.
Doctors said his father suffered brain hemorrhage.
Nezami left behind wife, two sons, two daughters and a host of relatives, well-wishers and followers to mourn his death.
Rashed said the dead body of the IOJ leader will be taken to his village home in Narsingdi's Shibpur upazila at night as he will be buried there after a namaz-e-janaza, reports United News of Bangladesh.
Alongside doing politics, Nezami used to write columns in different newspapers. He was also the editor and publisher of the "Dainik Sarker', a Bangla language-based daily newspaper published from Dhaka.
IOJ had long been there in the BNP-led alliance since its formation.
However, a faction of the party, led by Nezami, quit the BNP's 20-party alliance on June 7, 2016 while another faction, led by MA Rakib, is still with the 20-pary alliance.
Before the 8th parliament election, BNP formed a four-party alliance with IOJ, led by Fazlul Haque Amini and Nezami, Jatiya Party and Bangladesh Jamaat-e Islami in 1999.
The four-party alliance was extended to a 20-party one in 2012.
Kamruzzaman