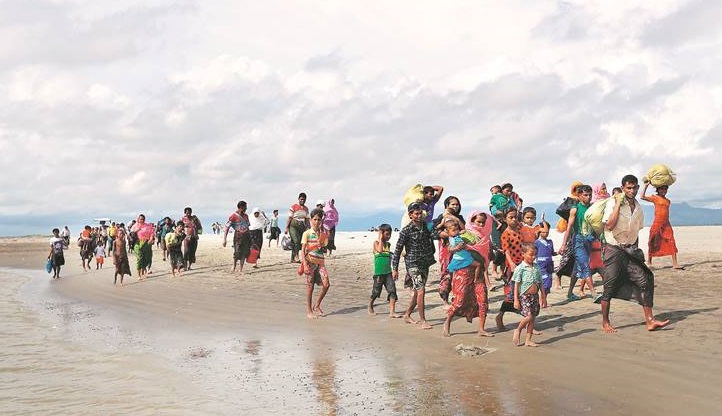 Bangladesh on Thursday rejected the call of an international rights body to immediately return hundreds of Rohingya from a remote islet where they were quarantined over two months ago due to COVID-19 fear.
"Those Rohingya in the islet are well in a very neat and clean environment. Government is providing food and other necessities to them regularly," said Bangladesh refugee commissioner Mahbub Alam Talukder.
He was responding to Anadolu Agency following a statement of Human Rights Watch where the global rights body urged Dhaka to move over 300 Rohingya from the island back to their families "immediately".
He noted that the Bangladesh government is providing refuge to more than one million Rohingya. "Of them only 306 Rohingya have been relocated at the islet where we have developed a very nice settlement with all protective measures from natural disasters," he added.
In May 2020, Bangladesh sent some Rohingya to the remote island of Bhashan Char, located at the estuary of the River Meghna and the Bay of Bengal in two phases. These refugees were stranded in the sea for weeks after they failed to illegally travel to Malaysia from Bangladesh.
Frustrated at the subhuman conditions at the crowded camps, Rohingya people frequently mount boats to embark on risky sea voyages to other countries.
In a statement on Thursday, Human Rights Watch said: "Bangladesh authorities should immediately move over 300 Rohingya refugees, including at least 33 children, from the silt island of Bhashan Char to the Cox's Bazar refugee camps to be with their families."
"Bangladesh authorities are using the pandemic as an excuse to detain refugees on a spit of land in the middle of a churning monsoon sea while their families anxiously pray for their return," said Brad Adams, Asia director of the group.
Speaking to Anadolu Agency, Bangladesh Foreign Minister AK Abdul Momen said on Thursday that the Rohingya sent to the island are living far better lives than those in the crammed camps in the southern district of Cox's Bazar.
"Some Rohingya women at the island are running beauty parlors, men are fishing and cultivating land and some are doing cattle farming as they did during their peaceful life in [Myanmar's] Rakhine state."
Citing the rights group's statement, he added that those rights bodies "should rather issue statements about the situation in Rakhine state where many Rohingya people are still in danger."
"Currently our population density is more than 1,200 per square kilometer but it's less than 100 in the US. If Adams is so worried about Rohingya he should convince his government to take them back to his country," he added.
- Persecuted people
The Rohingya, described by the UN as the world's most persecuted people, have faced heightened fears of attack since dozens were killed in communal violence in 2012.
According to Amnesty International, more than 750,000 Rohingya refugees, mostly women and children, fled Myanmar and crossed into neighboring Bangladesh after Myanmar forces launched a brutal crackdown in August 2017.
Since then, nearly 24,000 Rohingya Muslims have been killed by Myanmar's state forces, according to a report by the Ontario International Development Agency (OIDA).
More than 34,000 Rohingya were also thrown into fires, while over 114,000 others were beaten, said the OIDA report, titled Forced Migration of Rohingya: The Untold Experience.
As many as 18,000 Rohingya women and girls were raped by Myanmar's army and police, while over 115,000 Rohingya homes were burned down and 113,000 others vandalized, it added. [Source: Anadolu Agency]