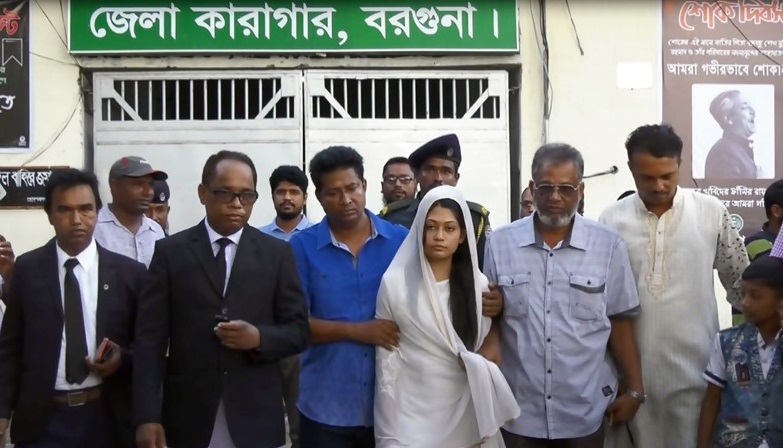 Ayesha Siddika Minni was released from Barguna district jail on bail on Tuesday in a case over the murder of her husband Rifat Sharif after 47 days in jail.
Mozammel Hossain, father of Minni, received her at the jail gate when she walked out of the jail around 4:35 pm, said Anwar Hossain, Jail Super of Barguna District Jail, reports United News of Bangladesh.
Earlier in the day, Chief Judicial Magistrate M Zahid Hossain asked the jail authorities to free Minni after receiving the copy of the bail.
The Appellate Division on Monday upheld the High Court bail for Minni in the case, clearing the way for her release from jail.
The bench of Supreme Court judge Hasan Foyez Siddique passed the order dismissing a government plea challenging the HC order.
On August 29, the HC granted bail to Minni on condition of staying in her father's custody and refraining from talking to media.
Meanwhile, police in Barguna on Sunday pressed charges against 24 people, including Minni, in the murder case.
Inspector Humayun Kabir of Sadar Police Station, also the investigation officer of the case, submitted a 614-page charge-sheet before the Senior Judicial Magistrate Md Sirajul Islam Gazi, said court inspector Abdul Quddus.
Although there were 12 names in the First Information Report (FIR), the charge-sheet was submitted against 24 people.
Of the accused, 14 are teenagers and a separate supplementary charges-sheet was filed against them.
Rifat murder:
On June 26, Rifat Sharif, 22, was attacked with sharp weapons near the main gate of Barguna Government College in the town. Minni appeared to be trying to protect him during the attack.
Main accused Sabbir Ahmed alias Nayon Bond was killed in a reported gunfight with law enforcers on July 2.
Police arrested Minni on July 16 over the murder of her husband and was denied bail several times. She reportedly confessed to her involvement in the murder before the court on July 19, two days after her arrest.
On July 31, Minni filed a petition with a Barguna court seeking withdrawal of her confessional statement over the murder.
Kamruzzaman