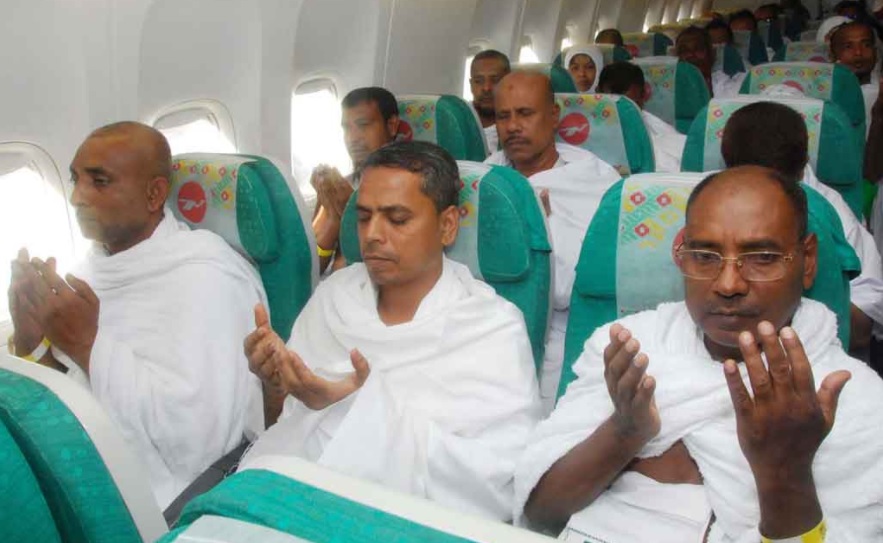 The first of this year's hajj flights, carrying 417 pilgrims, left Dhaka for Saudi Arabia today (Thursday) morning.
Biman Bangladesh Airlines flight BG-3001 took off from Hazrat Shahjalal International Airport at 7:15am, and there are five more Hajj flights to Jeddah on the day, said Biman Bangladesh Airlines Manager (Public Relations) Tasnim Aktar, reports United News of Bangladesh.
State Minister for Religious Affairs Advocate Sheikh Md Abdullah and State Minister for Civil Aviation Md Mahbub Ali saw off the pilgrims at the airport.
Hajj flights carrying pilgrims to Saudi Arabia will continue until August 5.
This year, a total 127,198 pilgrims are expected to travel to Saudi Arabia for Hajj.
Biman Bangladesh Airlines will carry 63,599 Hajj pilgrims, while Saudi Arabian Airlines the rest, Tasnim Aktar added.
The return flights are scheduled to begin on August 17, and continue till September 15.
Bangladeshi pilgrims can now complete the immigration procedure at Dhaka airport, before heading to Saudi Arabia.
Previously, pilgrims were required to wait in the aircraft after landing in Saudi Arabia to complete the procedure - sometimes waiting for up to six hours.
Kamruzzaman