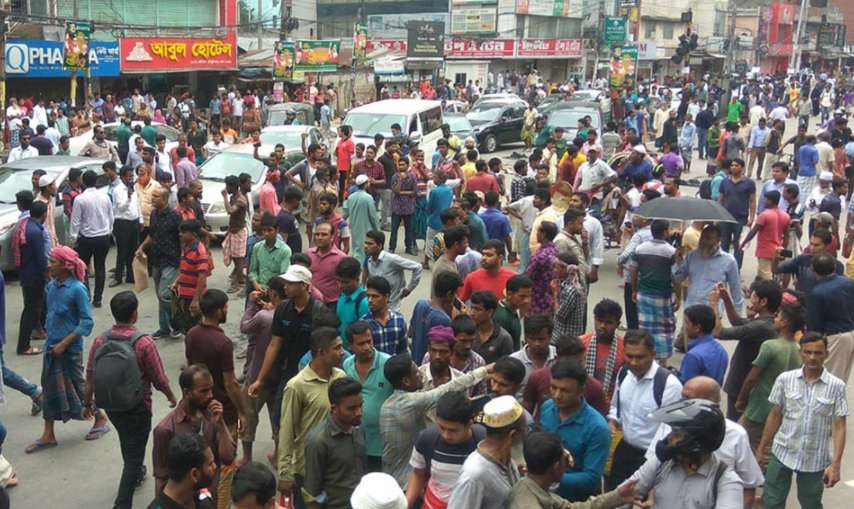 Rickshaw-pullers blockaded the road at Rampura in Dhaka on Tuesday morning protesting at the decision banning the plying of rickshaws on the three major thoroughfares of Bangladesh capital, including the Kuril-Sayedabad one, reports United News of Bangladesh.
Abdul Kuddus Fakir, officer-in-charge of Rampura police station, said that several hundred rickshaw-pullers took to the street and put barricades on both carriageways in front of Better Life Hospital at around 8:30am.
Following the road blockade, huge tailbacks were created on both sides of the road, inflicting sufferings on commuters. Office-goers and students of different schools and colleges were the worst sufferers as they got stuck in gridlock.
Many were seen walking to reach their destinations.
At a meeting on July 3, a special committee, formed with Dhaka South City Corporation mayor Sayeed Khokon as its head, to stop the plying of illegal vehicles as well as stop grabbing of footpaths and illegal parking in the capital, decided to ban the plying of rickshaws on three major thoroughfares from July 7 in an effort to ease the growing traffic congestion.
The three roads are Kuril-Sayedabad Road by Rampura and Khilgaon, Gabtoli to Azimpur via Asad Gate and Science Laboratory Intersection to Shahbagh Intersection.
Kamruzzaman