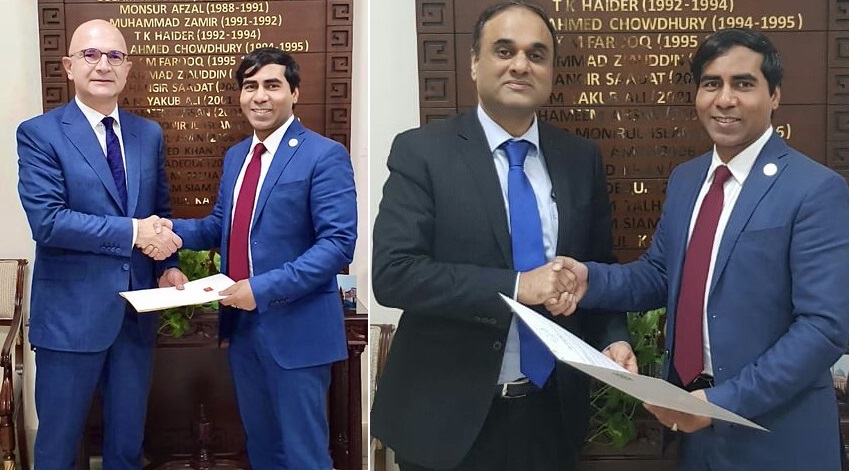 Turkey and Pakistan have appointed new envoys in Bangladesh, according to embassy sources of both countries.
Newly appointed Turkish ambassador (designate) in Dhaka Mustafa Osman Turan and high commissioner (designate) for Pakistan to Bangladesh Imran Ahmed Siddiqui presented the copies of their credentials to the foreign ministry of Bangladesh on Sunday.
Chief of Protocol of the Ministry of Foreign Affairs of Bangladesh, M. Amanul Haq, warmly welcomed the both envoys and received the copies of their credentials.
On behalf of foreign ministry, Haq assured them of providing all sorts of necessary supports so that they can perform their professional duties in Bangladesh smoothly.
Public relations departments of both embassies told this correspondent that the respective envoys are expected to meet Bangladesh President Abdul Hamid soon and present their credentials to him.
Turkish envoy Mustafa joined his country's foreign ministry in 1992 following his studies in international relations at the Middle East Technical University in Ankara.
As a career diplomat, he worked in Italy, Albania, Macedonia, Kosovo, Austria, Afghanistan and Belgium. He was Director of the International Media Centre at the G20 Summit in Antalya. Prior to shifting to Bangladesh he served as Deputy Director General for Multilateral Economic Affairs.
Mustafa has a Masters degree in European politics from the College of Europe in Bruges.
Meanwhile, before coming to Dhaka Pakistani envoy Siddiqui was serving as consul general in Toronto, Canada.