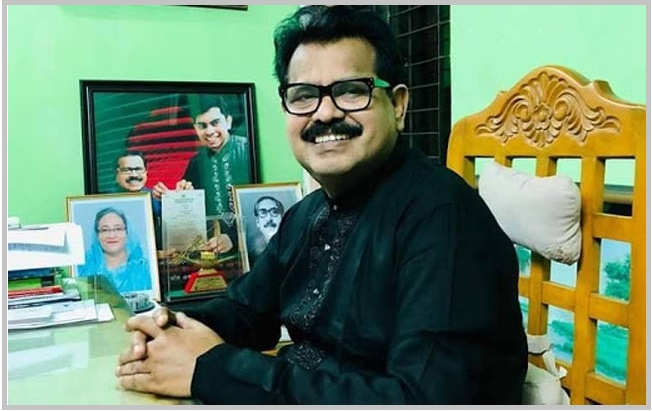 Md Israfil Alam, an Awami League MP from Naogaon-6 constituency, died at a hospital in the capital on Monday following coronavirus infection. He was 54.

The AL MP was undergoing treatment at Square Hospitals with breathing problems where he breathed his last around 6:20am, reports United News of Bangladesh.

Israfil was admitted to the hospital for the second time on July 17 as he started coughing up blood, said his wife Sultana Pervin Beauty.

He was put on life support on Friday as his condition deteriorated, she said.

According to Pervin, Israfil was infected with Coronavirus and was admitted to the hospital on July 6.

Israfil returned home on July 14 as his follow-up test report came out negative for coronavirus, she said.

Israfil Alam became MP for the first time in 2008 when he was the general secretary of Sramik League of Dhaka city unit. He was elected MP thrice, including in the tenth and eleventh parliamentary elections.

Besides, Israfil was the joint secretary of Naogaon District Awami League, President of the Rural Development and Cooperatives Federation and member of Parliamentary Standing Committee on the Ministry of Labour and Employment.

'Ideal, patriot politician'

President Abdul Hamid and Prime Minister Sheikh Hasina expressed profound shock and sorrow at the death of Israfil Alam.

In a message, the President said he entered the political arena through the labour politics. He always spoke about the rights of the hard-living common people in the Jatiya Sangsad (parliament).

"At his (Israfil) death, the country lost a promising and dedicated political leader," Abdul Hamid also said.

In a condolence message, Prime Minister said Israfil throughout his life worked for the welfare of the country and the nation.

She prayed for the eternal peace of the departed soul and expressed sympathy for his bereaved family members.

Meanwhile, Jatiya Sangsad Speaker Dr Shirin Sharmin Chaudhury expressed deep shock and sorrow at the death of Israfil.

In a condolence message, she prayed for the eternal peace of his departed soul and conveyed deep sympathy to the bereaved family members.

Deputy Speaker M Fazle Rabbi Miah and Jatiya Sangsad Chief Whip Noor-E Alam Chowdhury also expressed deep shock and sorrow at the death of Israfil.

Besides, Road, Transport and Bridges Minister Obaidul Quader, Information Minister Hasan Mahmud, Home Minister Asaduzzaman Khan Kamal, Foreign Minister Dr AK Abdul Momen, Finance Minister AHM Mustafa Kamal, Law Minister Anisul Huq, Environment, Forest and Climate Change Minister Md Shahabuddin, Planning Minister M Mannan, Education Minister Dr Dipu Moni, Food Minister Shadon Chandra Mazumder, Local Government and Rural Development (LGRD) Minister Md Tajul Islam, Agriculture Minister Dr Abdur Razzaque, Land Minister Saifuzzaman Chowdhury, Science and Technology Minister Yeafesh Osman, LGRD State Minister Swapan Bhattacharjee, State Minister for Women and Children Affairs Ministry Fazilantun Nessa Indira, State Minister for Primary and Mass Education Md Zakir Hossain, State Minister for Youth and Sports Zahid Ahsan Russel, State Minister for Cultural Affairs KM Khalid and DNCC Mayor Atiqul Islam mourned Israfil's death.

In a condolence message, the information minister called Israfil Alam as "an ideal and patriot politician".