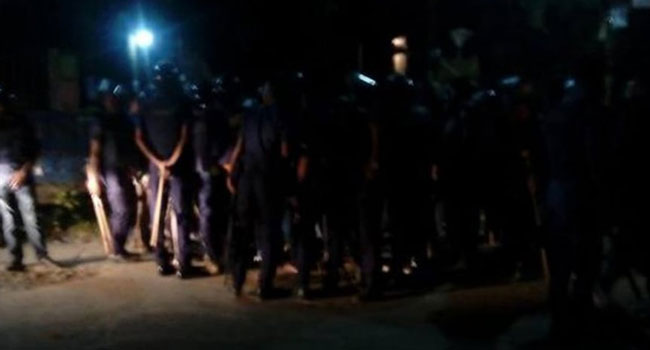 Above 50 activists of Bangladesh's ruling Awami League party's student front Chhatra League were reportedly injured in factional clashes on Chittagong University (CU) campus last midnight.
Centering establishment of supremacy on campus both factions of the student body engaged in huge clashes that turned the campus into a battle ground.
On information police rushed to the spot and detained 50 leaders and activists of the organization from spot and ultimately sent eight to jail after primary inspection.
A tensed environment is prevailing throughout the campus following the clashes. Additional contingents of law and enforcement agencies have been deployed on campus to avert further escalation.
According to campus sources, the factional clash was first occurred between shuttle train-based two organizations of university's A F Rahman Hall unit of Chattra League -- Sixty-Nine and Bijoy.
Earlier, on Wednesday evening two factions of Chhatra League also engaged in minor clashes on campus over petty grounds.
During the clashes the lights of the students' dormitory were damaged. At one stage unrestrained workers of both factions also smashed the doors and windows of the dormitory.
During the clashes a good number of cocktails were blasted.
University's administrative head, Proctor S M Monirul Hasan, told the Nayadiganta, that they were trying to control the situation.
"We can't say that the situation is fully under control. But we are continuing dialogue with the both factions," Hasan added.
Meanwhile, two critically injured students, Nezam and Fuad, following the Wednesday evening clash have been admitted to Chittagong Medical College Hospital. In that incident at least four students were reportedly injured.
Kamruzzaman