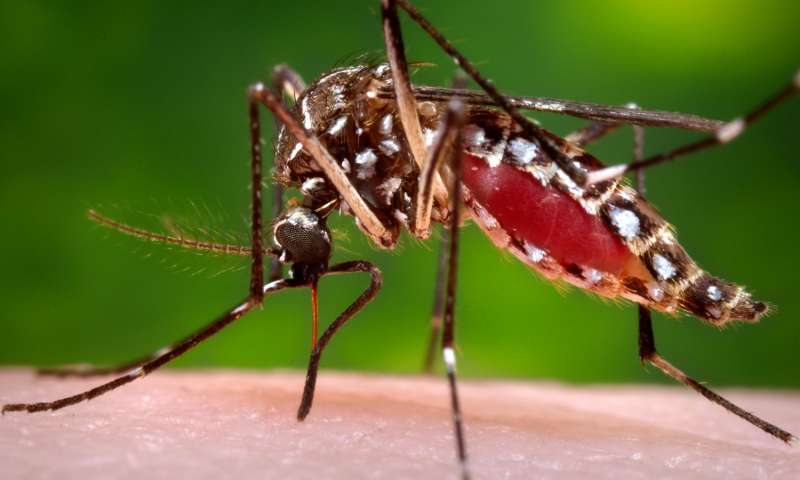 Bangladesh government on Sunday recorded the dengue death toll as 40 while the unofficial record is much higher.
Thirty-nine of the deaths were recorded at hospitals in Dhaka. The other one was reported from Dhaka Division (outside the capital), the Health Emergency Operation Centre and Control Room of the Directorate General of Health Services said.
Ten of the deaths occurred in August while 24 deaths were recorded in July, according to the control room.
Three more people died of dengue in Dhaka, Mymensingh and Noakhali on Sunday taking the unofficial count of deaths reportedly from the viral disease to 87.
In Dhaka, Md Rifat, 22, a non-resident third year honours student of department of oceanography of Dhaka University and hailing from Gazipur, died of dengue at Apollo Hospitals in the city on Sunday at about noon, DU proctor Golam Rabbani said.
In Mymensingh, a college student Farhad, 20, lost his battle to dengue at Mymensingh Medical College Hospital around 11:30am.
The hospital deputy director Laxmi Narayan Majumder said Farhad was admitted to the hospital on Saturday night with dengue. 'He from multiple organ failure following dengue,' he said, adding that 201 dengue patients were currently admitted to the hospital.
Amir Hossain, 60, a former army man from Shaymapur village in Lakshmipur died of the mosquito-borne disease at Noakhali General Hospital on Sunday at about 6:15am, about five hours after he was admitted to hospital at about 1:15am while he was on way to his village home from his workplace in Dhaka with fever to celebrate Eid with his family members.
The number of dengue patients admitted to hospitals outside Dhaka continues to rise in past few days while the people from the capital are swarming to villages to celebrate the Eid-ul-Azha.
A record number of dengue patients were admitted to Mugda Medical College Hospital in 24 hours ending Sunday morning while they received 125 patients, according to health emergency operations centre and control room data.
It shows that DMCH received the highest 174 dengue patients during the time.
Health minister Zahid Maleque while opening a new 200-bed dengue ward at Shaheed Suhrwardy Medical College Hospital on Sunday said the Directorate General of Health Services was prepared to provide treatment to the patients during Eid.
He said the hospitals were busy providing the required services to the dengue patients.
Besides, DMCH had earlier extended its dengue ward to the Sheikh Hasina National Institute of Burn and Plastic Surgery to accommodate more dengue patients.
About 300 beds were prepared for dengue patients at the under-development institute.
In its dengue report on Sunday, DGHS showed in the past 24 hours till 8:00am Saturday, at least 2,334 new dengue patients were hospitalised across the country. The number of new patients was 2,176 on Saturday and 2,002 on Friday.
The number of dengue patients continued to increase in the districts as 1,353 new dengue patients were admitted to hospitals in the districts outside Dhaka and the number was 1,111 on Saturday and 1,055 on Friday.
In Dhaka, the number of new dengue patients admitted to hospitals was 981 on Sunday and the number was 1,065 on Saturday and 947 on Friday.
On Sunday, at least 8,754 dengue patients were under treatment at hospitals including 4,671 in the capital and 4,083 in the districts.
So far, according to the reports, 41,178 dengue patients were hospitalised this year, including 22,717 in the 11 days of August alone.
The government has already cancelled all types of leave and holidays for those involved in health services and discouraged all public servants to leave the capital in the wake of dengue outbreak across the country.
However, tens of thousands of people were leaving the city to celebrate the religious festival with their near and dear ones in remote villages and districts, with the high risk of dengue this time, said officials.
Cabinet secretary Mohammad Shafiul Alam in a Facebook message asked all concerned to take precautions against dengue fever while leaving the city as many would remain outside the capital during the public holidays.
Kamruzzaman