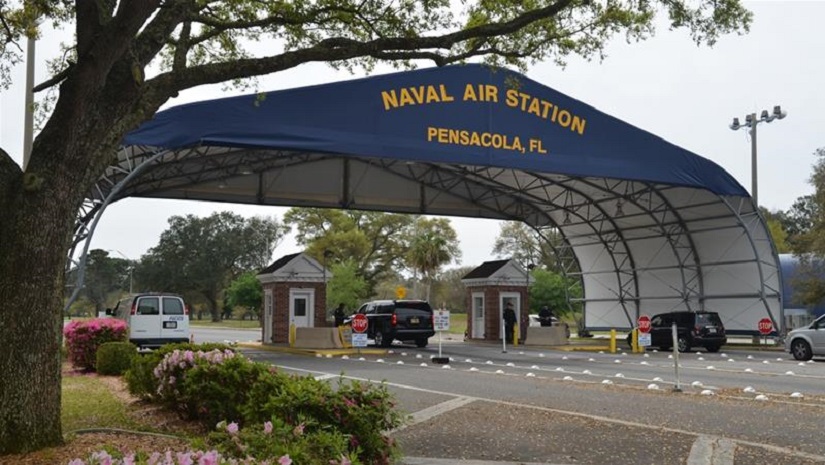 Training of all Saudi Arabian military personnel in the United States (US) was stopped until further notice after a Saudi airman shot and killed three people last week at a base in Florida, reports Aljazeera.
The Pentagon's decision will have far-reaching impacts on visiting Saudi personnel, including grounding more than 300 Saudi Arabian military aviation students as part of a "safety stand-down".
The Pentagon later on Tuesday said the move would also affect infantry personnel and all other Saudi military training, other than classroom lessons. Such coursework, which includes English-language classes, will continue.
Mohammed Alshamrani, a 21-year-old lieutenant in the Saudi Royal Air Force, opened fire in a classroom at Pensacola Naval Air Station in Florida on Friday, killing three American sailors and wounding eight other people before being shot dead by police.
A senior Pentagon official said the move was intended to allow for a broader review of security procedures that would eventually apply to all of some 5,000 international military students in the US.
The safety stand-down only applied to some 850 visiting students from Saudi Arabia.
US domestic intelligence and security service, Federal Bureau of Investigation (FBI), has said it believes Alshamrani acted alone before he was fatally shot by a deputy sheriff.
"I don't have any evidence to suggest that there is a larger ring or larger conspiracy," a military official said.
Saudi-American alliance
The shootings have again raised questions about the US military relationship with Saudi Arabia, which has come under heightened scrutiny in Congress over the war in Yemen and Saudi Arabia's killing of Washington Post columnist Jamal Khashoggi last year.
US military leaders have sought to portray the attack as an isolated incident that would not affect the overall US-Saudi relationship.
Navy spokeswoman Lieutenant Andriana Genualdi said the safety stand down and operational pause began on Monday for Saudi Arabian aviation students.
She said the grounding included three different military facilities: Naval Air Station Pensacola, Naval Air Station Whiting Field, and Naval Air Station Mayport, all in Florida state.
"Given the traumatic events, we feel it is best to keep the Royal Saudi Air Force students off the flying schedule for a short time," Genualdi said.
Alshamrani was on the base as part of a Navy training program designed to foster links with foreign allies. He had started training in the US in 2017 and had been in the Pensacola area for the past 18 months.
A group that tracks online extremism has said Alshamrani appeared to have posted criticism of US wars in predominantly Muslim countries and quoted slain al-Qaeda leader Osama bin Laden on Twitter hours before the shooting spree.
He is reported to have posted a manifesto denouncing the US as "a nation of evil".
White House National Security Advisor Robert O'Brien said the FBI investigation was continuing but that, in his opinion, "it appears to be a terrorist attack".
Pilots grounded
Deputy defense secretary David Norquist ordered a comprehensive review to be completed within 10 days of policies for screening foreign students.
Pentagon officials said the security study was being done with the cooperation of the Saudi government.
Alshamrani was armed with a lawfully purchased 9mm handgun. The FBI said on Tuesday he obtained the weapon through an authorized gun seller in Florida in July, through a loophole in federal gun laws that allows foreign nationals - usually unable to buy firearms - to have a hunting license.
The shooting struck a nerve in the US with echoes of the September 11, 2001, attacks, in which Saudi citizens accounted for 15 of the 19 hijackers that flew airliners into the World Trade Center and the Pentagon.
Saudi Arabia remains one of the closest US allies in the Middle East, and President Donald Trump has cultivated its controversial de facto ruler, Crown Prince Mohammed bin Salman (MBS).
Saudi Arabia's King Salman bin Abdulaziz denounced Friday's shooting as a "heinous crime" and said the gunman "does not represent the Saudi people".
Kamruzzaman