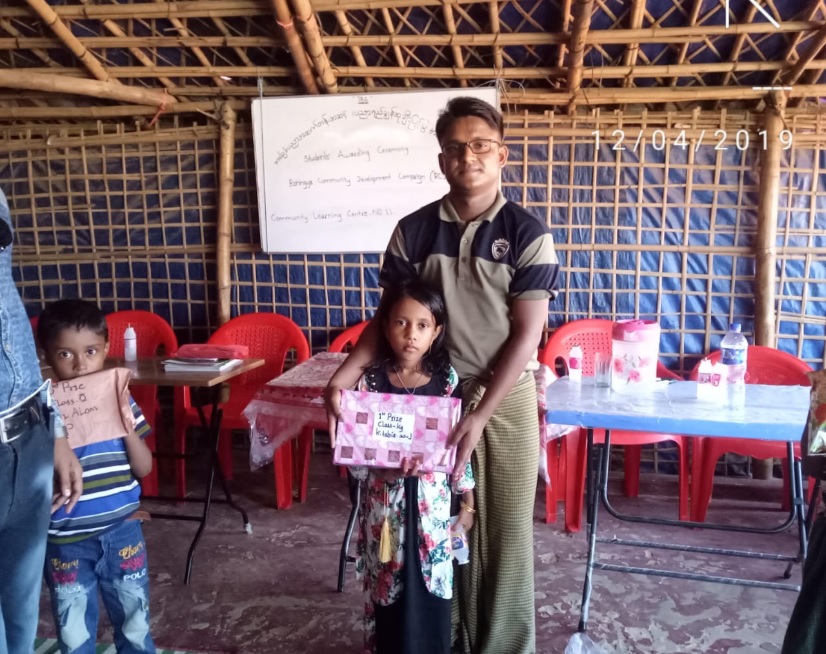 [Writer is coordinator of Free Rohingya Coalition and founder and Executive director of Rohingyas Youth Association (RYA) especially Education campaigner in camps]
COX'S BAZAR: Repatriation is not the only solution for the Rohingya. We are Genocide survivors. We come from the killing fields. We are waiting for justice from the international community. Myanmar and Bangladesh have failed three times to repatriate Rohingya genocide survivors. This is because Myanmar was not willing to take us back as their citizens again. We are not yet willing to return back again to our original places because Arakan State is not safe for us. Most genocide survivors agree that there are no guarantees for our security, safety, dignity or restoration of citizenship for us.
One of the issues which has caused conflict between the Myanmar government and Rohingya Community is the National Verification Card (NVC). We call it the genocide card because we feel it is the next step in destroying Rohingyas. We are bonafide citizens of Myanmar, so we should not have to accept the NVC. By enforcing the NVC, the Myanmar government wants to prove that Rohingya are foreigners that need to apply for citizenship. We are not foreigners - that's why we don't accept them.
The 1982 Citizenship law is in contravention of international law. Also it does not stipulate the use of NVCs. In the 74th session of UN General Assembly, the Myanmar minister from the State Counselor's office, Kyaw Tint Swe stated that the Myanmar government intends to provide NVCs to all Rohingya. He wrongly stated it is similar to the United States' Green card. However, Rohingyas are unwilling to return to their homes until the Myanmar government stops issuing NVCs to Rohingya.
Another big problem is returning Rohingyas to their original places. The Myanmar government has planned to house all Rohingya at Hla Poe Kaung, which is like an open-air prison. Most Rohingyas do not agree to be accommodated at Hla Poe Kaung camp since there is no guarantee that they will be able to return to their homes. Instead they demand that the IDPs who have been in camps since 2012 in Sittwe be returned to their homes first in order for the Myanmar government to show willing. Rohingyas must be able to return to their original villages and have their citizenship restored - without these conditions, there is no possibility for voluntary return.
This is not right time for the Rohingyas to return to their homeland because there are no guarantees of security, safety and dignity. The Myanmar government has not shown any political willingness to take Rohingya back again. The Bangladesh government continues to insist that Rohingya will not be forced to return to Myanmar. However, voluntary repatriation cannot occur in the current situation. There is no security in Arakan State. The conditions are not adequate.
If the two Countries go ahead with repatriation agreements which were reportedly reached under pressure of China, India and Japan, the move will violate international law and may amount to the crime of deportation. On 29 July 2019, the Bangladesh Foreign Minister, DR AK Abdul Momen said that the Rohingyas citizenship issue was an internal affair for Myanmar. This kinds of controversial statement will create a negative public image for Bangladesh even though Prime Minister Sheikh Hasina was honored'' as "Mother of Humanity'' by Diplomatic Magazine in September 2017 after opening border to persecuted Rohingyas people from Myanmar, Arakan State.
Prime minister of Bangladesh Sheikh Hasina presented a 5-point proposal at the 72nd Session of the United Nations General Assembly in September 2017 for a permanent solution to the protracted Rohingya crisis: First: Myanmar must unconditionally stop the violence and the practice of ethnic cleansing in the Rakhine State immediately and forever; Second: Secretary General of the United Nations should immediately send a Fact-Finding Mission to Myanmar; Third: All civilians irrespective of religion and ethnicity must be protected in Myanmar. For that "safe zones" could be created inside Myanmar under UN supervision; Fourth: Ensure sustainable return of all forcibly displaced Rohingyas in Bangladesh to their homes in Myanmar; and Fifth: The recommendations of Kofi Annan Commission Report must be implemented unconditionally.
Then at the 'High-level Event on the Global Compact on Refugees: A Model for Greater Solidarity and Cooperation' organized by the UN High Commissioner for Refugees at the UN Headquarters in New York on 24 September 2018, Bangladesh Prime Minister Sheikh Hasina placed a 3-point proposal to resolve the Rohingya crisis: First: Myanmar must abolish discriminatory laws, policies and practices against Rohingyas and address the root causes of forced displacement in a genuine and timely manner; Second: Myanmar must create a conducive environment by building trust and guaranteeing protection, rights and pathway to citizenship for all Rohingyas. If needed, create a "safe zone" inside Myanmar to protect all civilians; and Third: Prevent atrocity crimes against Rohingyas in Myanmar by bringing accountability and justice, particularly in light of the recommendations of the Fact-Finding Mission of the UN Human Rights Council.
We Rohingya Muslims are standing with the Honorable Prime Minister Sheikh Hasina of Bangladesh in her efforts for our future. So far the situation is not conducive to return, Independent International Fact-Finding Mission on Myanmar says that the 600,000 Rohingya remaining inside Myanmar face systematic persecution and live under the threat of genocide.
"The threat of genocide continues for the remaining Rohingya", said Marzuki Darusman, Chair of the Fact-Finding Mission, recalling that a year ago the Mission said it had found "genocidal acts" in Myanmar's 2017 "clearance operations" that killed thousands and caused more than 740,000 Rohingya to flee for their lives to Bangladesh.
"Myanmar is failing in its obligation to prevent genocide, to investigate genocide and to enact effective legislation criminalizing and punishing genocide," Darusman said.
On September 2019 in a BBC News report. "Entire Muslim Rohingya villages in Myanmar have been demolished and replaced by police barracks, government building and refugee relocation camps. The Rakhine Buddhist residents told us they would never accept Muslims living next to them again. In early September 2017, the Commander of the Myanmar armed forces General Min Aung Hlaing said they were taking care of what he called' Unfinished business left from 1942."
We never forget the help of Bangladesh and her Prime Minister Sheikh Hasina in open the border to give refuge to Rohingya Genocide survivors from Myanmar. However, we now need sustainable solutions in Myanmar so that we can return home.
[Opinions expressed in this write up are thoroughly author's own and do not reflect or convey the editorial policy of the Daily Naya Diganta]