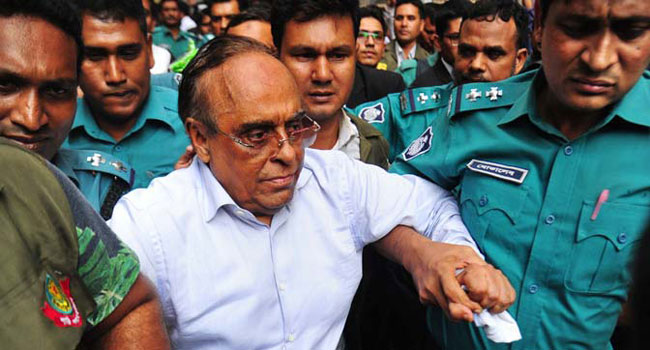 A Dhaka court has granted bail to former adviser to a caretaker government of Bangladesh, Barrister Mainul Hosein, in connection with a defamation case filed by a female journalist last year.
Dhaka Metropolitan Magistrate Tofazzol Hossain granted the bail on bond Tk 5,000 om Sunday.
On September 3, the court sent Mainul Hosein to jail after rejecting his bail petition in the case.
Barrister Mainul Hosein was released from jail on bail on January 27, ninety seven days after his arrest for making offensive comments against journalist Masuda Bhatti.
Masuda Bhatti filed the defamation suit in Dhaka on October 21, last year.
The High Court granted bail to Mainul Hosein in 14 defamation cases for six months on January 13.
A team of Detective Branch (DB) of police arrested Mainul from in front of Jatiya Samajtantrik Dal (JSD) president ASM Abdur Rob's Uttara residence on October 22 last in a defamation case filed in Rangpur.
Later, 22 cases - one under the Digital Security Act and 21 for defamation - were filed against Barrister Mainul for defaming journalist Masuda Bhatti in a television talk-show.
Mainul who was speaking at a talk-show "Ekattor Journal" through videoconferencing on Ekattor TV made a widely criticized comment against Masuda Bhatti on October 16.
During the talk-show, Masuda Bhatti asked Mainul, "You say that you're in the JatiyaOikyafront as a citizen of the country but in social networking sites, many people are saying that you're there as a representative of Jamaat."
Angered with the comment, Mainul said, "I'm thanking you for your audacity and I want to believe you as 'characterless'. There's no question about Jamaat link's with me and what question you have asked is embarrassing for me."
Kamruzzaman